Our commitment to keep tackling ASB and fly-tipping
Tackling anti-social behaviour and fly-tipping remain key targets for the Group right across our operational area.
We're committed to dealing with these issues and taking appropriate action against those responsible. Two recent cases demonstrate how we're working with our partners in the community on both of them…
Anti-social behaviour
Two properties in a block of flats in Northamptonshire have been served with closure orders after we worked closely with local police to deal with anti[1]social behaviour. We'd been receiving numerous reports of anti-social behaviour – including drug dealing, verbal abuse and intimidation – at Risdene Court in Rushden.
Our teams worked closely with the local Neighbourhood Policing Team to gather the evidence required to take the cases to court and there have now been two closure orders granted – immediately improving the quality of life of those living nearby.
Paul Manns, our Housing Officer for the area, said: "Thanks to these orders, nobody but the police or a designated person can enter these properties until further notice. "These orders are only granted where anti-social behaviour is having a big impact on other residents, so we're really pleased with the outcome.
"We had served eviction notices, but due to Coronavirus, it was taking a long time to do anything. I'm incredibly happy with the result. It'll have a hugely positive impact on the customers living nearby. "Hopefully this result shows that, as a responsible landlord, we won't tolerate anti-social behaviour.
We'll work with our partner agencies to tackle the problem and ensure our communities remain pleasant places to live in."
Community litter pick
More than 30 bags of litter were collected during a community litter pick in Walsall. Our Community Investment Team arranged the event and were joined by a group of resident volunteers - including nine youngsters – and our contractors, as well as colleagues from Walsall Council and our Housing, Repairs and Planned Works teams.
In total, 37 people were involved in the litter pick, which saw 35 bags of rubbish collected as well as three tonnes of fly[1]tipping waste. Maurice Hegarty, Community Investment Lead for the West region, helped organise the event in partnership with Walsall Council's Clean and Green Team.
He said: "To see so many people from different groups come together for the benefit of the community was heart-warming.
"Working with the community is an important thing for us in the Community Investment Team, and simple things like litter picks can have a real impact in helping to improve the lives of our customers. "It was a very worthwhile day for everyone involved and I'm sure we'll look to do similar events in the future."
Walsall Council's Clean and Green Team provided all the litter picking equipment and the collection of the full bags of rubbish. They also provided a street sweeper, and an education trailer with information on recycling.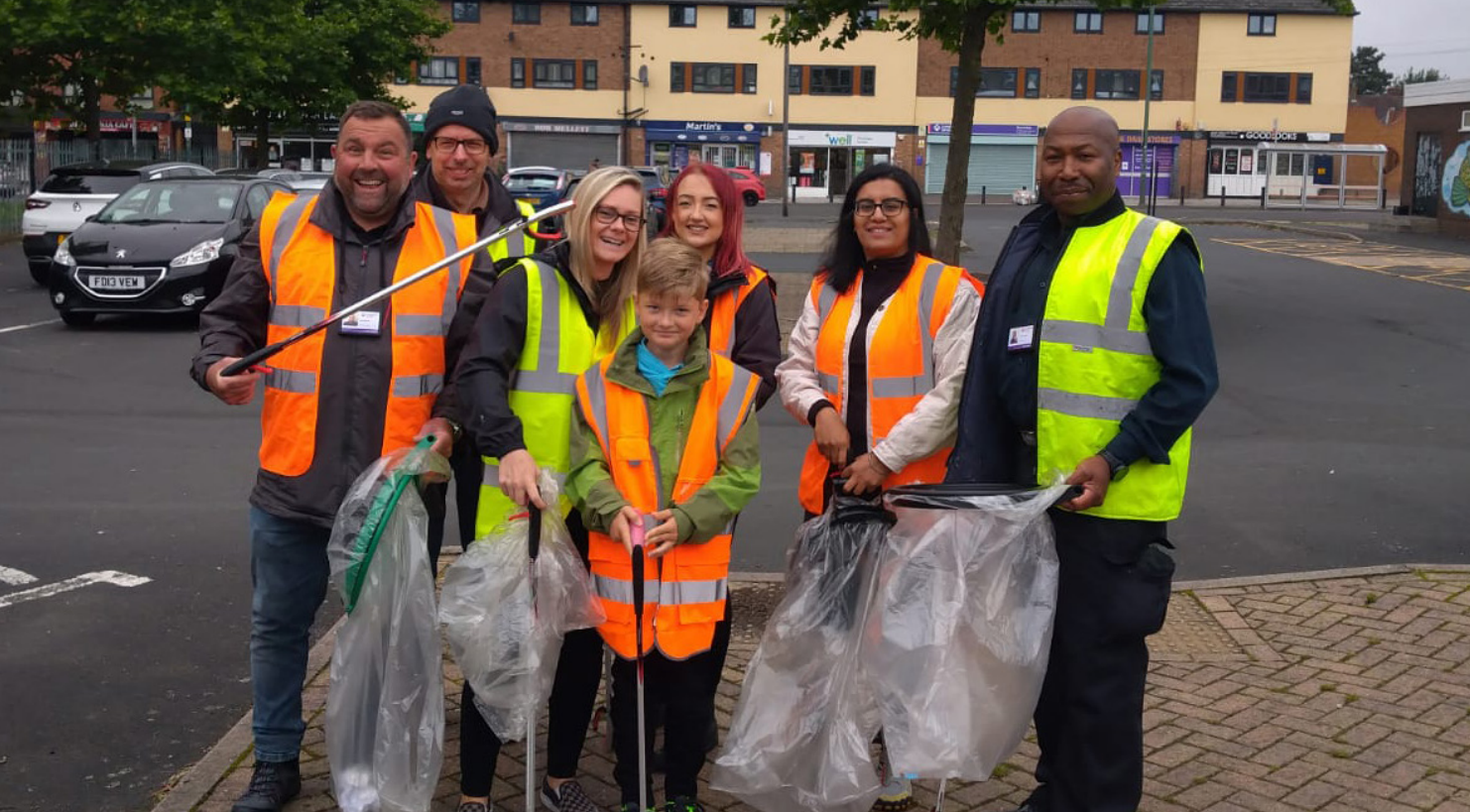 ---