Our Voice - Winter 2022
Hello and welcome to the Winter2022 edition of Our Voice – Longhurst Group's customer magazine.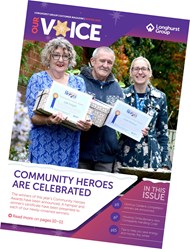 Every customer across the Group has received a copy of this edition, whether that's in print or via email. If you'd like to change how you receive your copy, just let us know.
As ever, there's something for everyone. We hope you enjoy your read and we look forward to bringing you the next edition later in the year.

Download our audio version of the Winter 2022 edition of Our Voice here.
---
A message from Julie Doyle, our Chief Executive

I'd like to take this opportunity to thank you for your ongoing patience as we work hard to improve our services.
The repairs service we've provided in recent years, during and since the Coronavirus pandemic, and the way we've dealt with your enquires has been below the standard we expect and that you deserve, and I apologise for that.
More complaints
As a result of these issues, we've received more complaints than ever before.
Of course, I understand why this has happened, but it's now crucial that we learn from what's gone wrong and make sure we get things right in the future.
What we're doing to improve things
As well as appointing three new repairs contractors, we've also brought repairs enquiries in-house, meaning that when you need to report a repair, you'll speak to one of our colleagues. We've also recruited more people to our Property Services, Customer Services and Complaints teams.
As well as bringing in additional colleagues, we've also made changes to the way we work and you can find out more about this in the 'You said, we did' article in this edition.
Helping our colleagues help you
We've also done a lot of work with our colleagues to remind them of the importance of following things through, phoning customers back and communicating with each other to make sure we get the best possible outcomes and solutions for our customers.
We want to keep hearing from you
The changes outlined in this edition show just how much we value your feedback and how seriously we take the issues that you raise with us.
Keep letting us know what we can do to improve, and we'll keep on listening and responding.
Moving forward
I appreciate how difficult things are right now, as the cost of living crisis makes life even more challenging.
With that in mind, it's even more important that we get things right and be responsive and ready to help you when you need us the most.
Thank you again for your patience and understanding.
---
---
---
---
---
---
---
---
---
Our Voice - tell us how you'd like to receive your customer magazine
---