Inspirational Longhurst Group colleague makes final of a national search for rising star
A Longhurst Group colleague, who helps to transform the lives of young people in Cambridgeshire, has made the final of a prestigious national competition.
Helen Florence, 26, is the manager of Wisbech Foyer, which is run by Axiom Housing Association – part of Longhurst Group – and provides accommodation for up to 17 young people aged between 16 and 25.
In June, Helen was shortlisted in the top 10 of the 2018 Young Leaders Award from 24Housing magazine.
The competition, now in its eighth year, seeks to find the brightest young talent in the housing sector.
Helen and the other nominees were recently invited to London to present their ideas on how they would change the housing sector for the better to a panel of expert judges.
She wowed the panel with her vision to create 'Wellbeing Centres', where tenants could visit to receive the support they need without the stigma of visiting a hospital. She also pitched the idea of Training Houses, which young people would visit to learn the skills needed for independent living.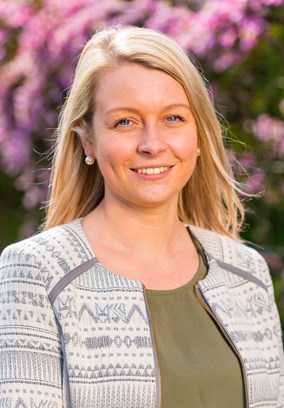 Helen said: "Despite being very nervous, presenting to the judges was actually a brilliant experience. It was great to be in a room with other young leaders with such great aspirations and ideas on how to improve the sector.
"I felt that my presentation went well and I felt that my idea was heard around the room, which was really rewarding.
"It means so much to make the final five, I really enjoyed presenting my ideas and I'm really looking forward to the final now."
In putting her through the final, judges praised Helen's 'can-do' attitude and commented that her presentation displayed genuine vision and joined-up thinking.
Having been shortlisted in the final five, she will now take part in the competition's showpiece, which will be held at the National Housing Federation's annual conference in London in September.
Helen and her team of specialist staff help Wisbech Foyer's residents develop independent living skills, supporting them with individual training needs, accessing education and employment.
Each resident has their own room, with access to shared facilities, including a communal lounge, kitchen and laundry room. Wisbech also has two move-on flats for those residents who are ready to make the next step towards independence.
Despite having only worked for Longhurst Group for little over a year, Helen has completely turned the service around, helping 15 out of 17 of her residents into education, training or employment, ensuring all residents are in credit with their rent accounts and securing over £6,000 of funding for sports activities at the Foyer.
Longhurst Group's Executive Director Care & Business Partnerships, Louise Platt, added: "We're absolutely delighted to hear that Helen has made it to the final five of the Young Leaders competition.
"It is a fantastic achievement and a ringing endorsement of the truly heartfelt service that she delivers to customers at Wisbech Foyer.
"The Foyer transforms the lives of the young people who live there, ensuring they have all the tools and support they need to take the next step towards independence.
"We are very proud of the service and Helen's superb leadership of it. On behalf of everyone at Longhurst Group, I wish her all the very best of luck in the final."