Jade Edwards - Customer Service Team Leader
As part of National Customer Service Week 2019, Jade Edwards, our Customer Services Team Leader in Rushden wrote a blog to tell us what she thinks makes for good customer service and how she came to be working in this role.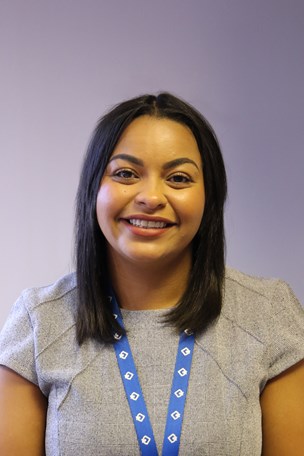 "As a child, my mother worked in the social housing sector and it always interested me. However, with no social housing experience, I felt that Customer Services would be a good place to start. The more I worked in Customer Services, the more I realised it was the perfect environment within the sector for me.
I have been with Longhurst Group in the Customer Services Team for six years. The first five of those were as a Customer Service Advisor in our Birmingham office. In this role, we dealt with all incoming enquiries including by telephone, email, face to face, social media, text message and website forms.
Since September 2018, I have been the Customer Service Team Leader in our Rushden Customer Service Team. This role involves managing the Customer Service Advisors based in Rushden on a day to day basis as they take incoming enquiries from customers in the Northamptonshire area.
The Customer Services Team is important within Longhurst Group as we are normally the first face customers see and the first voice they hear. We are usually the one customers turn to when they are having an issue, but just as often we are the ones they come to when they want to say 'thank you' – it does happen!
To me, good customer service is providing a swift, honest and reliable service to our customers. The basics that make for good customer service include being patient and a good listener. You need to be inquisitive and want to provide a good level of service to all customers.
You have to remember that an irate customer is never irate for no reason. It is important to listen to what they are saying and clarify the actual issue as this is normally what has made them feel the way they do. Showing that you understand the issue and their concerns is a good starting point to helping to solve their problem.
Good customer service is important to the Group as it enables us to provide the heartfelt service we need to improve customers' lives.
Since we consolidated the Group, we have Customer Service colleagues across all our regions. It is, therefore, vital that we work in collaboration as one team to ensure we are providing good customer service in a consistent manner. Excellent communication plays a huge role here.
The feeling when you help solve a customer's issue is one that you don't get in other jobs. In my current role, Customer Service Advisors escalate new build defects to me if they are outstanding after we have completed our follow up procedures.
I recently received an escalated new build defect where the Customer Service Advisors had struggled to resolve a repair issue to the front door within timescales. Once it had been escalated to me, I listened to the customer to understand the issue that he was experiencing.
Following this, I liaised with the developer concerned and ensured the repair was completed. During this time I kept in regular contact with the customer so he was aware of what was happening at each stage. This kept him happy as it meant he wasn't left feeling forgotten about and knowing he was happy made me happy.
I enjoy working within the Customer Services Team as no two days are ever the same. I enjoy working within a team that usually forms customers' first impressions of the organisation and I like doing my best to make that a good first impression.