Cranwell Court's residents' choir delivers special festive performance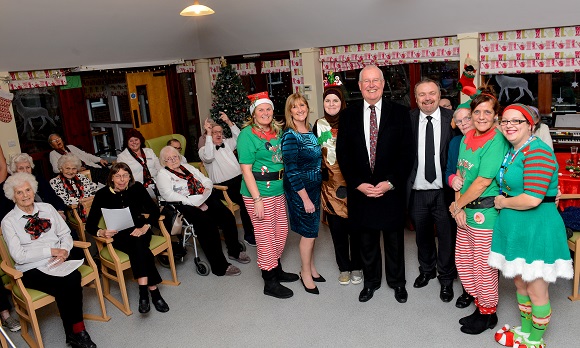 Grimsby's Cranwell Court echoed to the festive sounds of its own residents' choir at a very special Christmas event.
The group, comprised of residents living with dementia, held their inaugural performance for invited guests, including leader of North East Lincolnshire Council, Councillor Ray Oxby, ahead of the start of their own Christmas party.
Cranwell Court, on Cambridge Road, provides specialist dementia care and care for vulnerable older people and is operated by L&H Homes.
The choir was launched by staff at the centre earlier this year to give residents the opportunity to express themselves and socialise with others in a fun and supportive group.
Accompanied by local pianist Julian Adams, residents entertained guests with famous Christmas carols including We Three Kings and Hark the Herald Angels Sing before rounding off the performance with their rendition of We Wish You a Merry Christmas.
One of the performers, Jean Broughton, said: "I really enjoyed it and I thought we did really well, considering the choir hasn't been going for very long.
"I didn't realise I could sing until I joined the choir but I feel much more confident now, singing along with everyone else."
Cllr Oxby said: "It's been absolutely brilliant. I just love these kind of events. It was well-organised and the passion and care of the staff really shone through.
"You could see how much the residents were enjoying it and it was an honour to be there to witness it.
"I've been actively involved in dementia support services for many, many years and I do understand and recognise that dementia is a growing problem. Activities like this can really help those living with dementia by providing as a stimulus for them and that's what we saw at this fantastic performance; the personalities and the characters of the residents really shone through.
"I take my hat off to the staff here for setting up the choir here, it really is fantastic."
Cranwell's choir is thought to be the first of its kind in the area with those behind its creation already working with other care centres in the area to help them launch their own.
Senior activities co-ordinator at Cranwell, Jacky Aisthorpe, explained: "We do a lot of group activities here and we've found that you have to include music to keep the residents engaged and so we decided to launch the choir.
"We started off by singing songs that the residents would remember from their childhoods and they were absolutely brilliant, so it just grew from there.
"Every week, more and more residents are joining the choir. We don't need song sheets; they all sing from memory.
"It was absolutely brilliant to see the smiles on all their faces as they performed. We were all very proud of them."
Registered Care Manager at Cranwell Court, Angela Kirman added: "We looked at best practice for caring for people who were living with dementia and we came up with the idea of creating a choir for our residents.
"It's the first of its kind in the area that we know of and we're really proud to now be able to help other centres to set up their own choirs because we've seen the difference that it has made for our residents." 
Another of the invited guests, Jonathan Driffill, Executive Director of Partnerships Care and Communities for Longhurst Group, added: "I'd never heard of a choir of this kind before and so I was keenly interested to see what it would be like and I have to say that they were absolutely brilliant.
"Yet again, Cranwell Court has done a superb job. The staff here create such a brilliant atmosphere and a wonderful place to live, with the residents at the very heart of it.
"I'm aware that other centres like Cranwell are also interested in setting up their own choir, which is brilliant to hear and makes me very proud that the staff here have led the way on it. It's testament to their dedication and willingness to explore new and innovative ways of engaging with our residents."
Photo caption: Leader of North East Lincolnshire Council, Councillor Ray Oxby, centre left, congratulates the choir alongside Jonathan Driffill, executive director of partnerships care and communities for Longhurst Group, as staff look on.