10 percent off at B&Q and Tradepoint
As a new Longhurst Group customer, you can now benefit from 10 percent off at 290 B&Q and TradePoint stores nationwide and online for six months.*
Longhurst Group is pleased to team up with TradePoint and B&Q to offer this discount to new customers. We hope this makes moving into your new home even easier and more affordable. 
---
Activating your TradePoint card
Remove your TradePoint card and locate your card number and card name.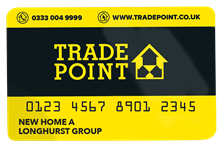 Use your card at any till at B&Q and online at tradepoint.co.uk to receive 10 percent off.
Tag us in your home photos on social media and we'll share them. – #mylghome  
Did you know?
By using your TradePoint discount card, you're helping to support Longhurst Group's 2025 strategy.
We already make a positive difference to thousands of people's lives, but we want to do even more. Our customers are at the centre of everything we do.
For every £1 spent using the discount card with TradePoint online and within B&Q stores, we receive a one percent rebate, which we give back to our customers through our Hardship Fund. The Improving Lives Hardship Fund offers practical one-off support to our customers most in need.  The main aim of the hardship fund is to alleviate the stress and trauma caused by financial hardship and poverty. The fund links to the two pillars of our Improving Lives strategy – Economic Resilience and Health and Wellbeing. We're pleased to have been able to add over £1,000 to the Hardship Fund since the scheme started in 2020.
We're continually reviewing this benefit and exploring ways to increase the rebate received and we intend to work even harder to identify what's most important to our customers and provide the support they need.
---
*Terms and conditions
This offer is currently only open to customers by invitation only.
The discount will apply to all eligible items only.  
You must present the discount card at the time of purchase.
Longhurst Group doesn't take any responsibility for any discount you do or do not receive. 
Longhurst Group is unable to offer refunds or exchanges on items or services purchased.
TradePoint, B&Q and Longhurst Group reserve the right to amend or withdraw the card at any point without notification.
Longhurst Group doesn't take any responsibility for lost, damaged or stolen TradePoint cards.