Rent increase - your questions answered
Your questions answered
---
Here to help
Money Advice Service
Did you know that we have a dedicated team of Money Advisors who are here to help if you're struggling with your finances? Based across our operational area, the team work closely with our customers to ensure that they're receiving the benefits they're entitled to, properly tackling any debt they might have and provide additional support with budgeting.
Meet our advisors
While our advisors are spread across our operational area, depending on your circumstances, they will be happy to visit you at home, speak to you over the phone or arrange for you to visit one of our offices.
Employment and Training Advice
We can also provide you with tailored support if you are looking for work. With a background in recruitment and career advice, our Employment and Training advisor Rob Friday can help you with the steps you need to take to find work or education opportunities.
This can include training and work experience to suit your needs, as well as CV writing, interview practice and a range of tried-and-tested job-hunting techniques.
---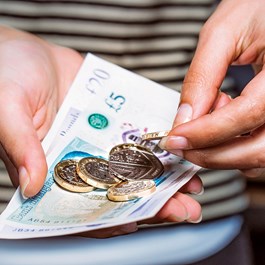 'Money advisor worked miracles to improve my family's lives'
Mum of two Lisa Anderson had heard so many scare stories about Universal Credit that she had avoided applying, meaning she and her family were living off just £80 a week and facing the very real prospect of losing their home. However, that all changed when she reached out to our Money Advice Service for help. From living on £80 a week, thanks to our help, the family's income was boosted by an extra £277 a month.
"They're miracle workers. "It's really got us sorted and I can't thank them enough. They genuinely do seem to care and it's not just as though they're doing it for a job. To anyone else in my situation, my advice would be to go for it."