Rent increase - your questions answered
  Why are you increasing my rent?
We understand that any increase to your rent will not be good news. However, government legislation has changed and, from April 2020 we are able to increase customers' rent by the Consumer Price Index (CPI) plus one percent. The CPI figure was announced by the government on 16 October 2019 as 1.7 percent. We have given the rent increase a lot of thought and discussed the issue with our Board at length. We believe that in order to deliver our commitments to you – as outlined in our Improving Lives 2025 strategy – we need to apply the increase of CPI plus one percent.
---
  How much will the increase be and how has it been calculated?
Rents will increase by CPI plus one per cent. You will receive a letter to confirm how much this will be and how it has been calculated.
---
  I pay a service charge, do the same increases apply?
Service charges may increase but the same formula of CPI plus one percent will not apply.
Please be assured that we will only set service charges in line with our service charge policy.
The policy states we will set charges appropriately to cover the cost of providing the service to you with no hidden charges.
Your rent increase letter provides you with a full breakdown of your service charges.
---
  What will you spend the additional rental income on?
Our Improving Lives 2025 strategy sets out what we want to achieve over the next five years and beyond. The additional money we are able to raise from rents will help us deliver better services, enhance the communities we serve and do even more to improve people's lives.
We will keep you informed regularly of how we are performing against our objectives and our Board will scrutinise our performance.
---
  Will I see any benefits in my home and local community?
Absolutely. The reason we are applying the rent increase is so that you will benefit both within your own home and wider community, but also from the services we provide to you. You will see that we will now be able to do what we said we would do and deliver investment in your homes, services and neighbourhood.
---
  Will I expect to see a higher level of service or something additional for the extra money?
You will continue to benefit from our excellent level of customer service. In our 2018 Group-wide customer survey, over three quarters of respondents told us they were happy with the overall service we provide.
All customers will benefit from us being able to deliver our Improving Lives strategy. Most importantly, the increase means that we won't have to change the services you receive.
---
  What can I do if I can't afford the increase?
As always, our priority is to support customers to sustain their tenancies and we want to help prevent rent arrears as much as you do.
We have a team of dedicated money advisors, who are trained to ensure you have maximised your benefits, help you manage your finances and support you through changes in circumstances.
Please take advantage of this service now to help you prepare well ahead of the rent increase. 
---
  What if I refuse to pay?
We appreciate you might be unhappy with the proposed rent increase and consider refusing to pay. If you take this decision, unfortunately it will result in rent arrears building up on your account and we will have to take action to recover the unpaid rent that is due.
We want to avoid this situation as it may end up with you facing more debt and possibly legal fees, which would only make your financial circumstances more difficult.
We would encourage you to take advantage of our specialist Money Advice service and contact one of our trained advisors.
---
  Can I have a breakdown of how you will spend my rent?
We commit to providing a full breakdown of how we will spend your rent over the next 12 months. We will do this in our annual report to customers which we will share on this website.
---
  I claim Universal Credit. Will I have to re-apply and will this result in weeks of delays in my rent being paid and accumulating rent arrears?
We appreciate that completing a Universal Credit claim can be very stressful and facing weeks of delays for any benefit payment is something we want to avoid. Please be assured you will not have to complete a brand new claim with the Department for Work and Pensions (DWP). You will simply need to inform them of this via the DWP portal after the rent increase has been applied. It is important that you do this on 6 April 2020 as we will then be asked to verify the increase.
---
  What if Universal Credit doesn't cover the rent increase?
If your Universal Credit allowance isn't increased to cover the additional rent increase, we strongly recommend that you make an appointment to see one of our specialist Money Advisors who can help you budget for the increase.
---
  I don't claim benefits; do I have to adjust my Direct Debit or will you do this for me?
Don't worry, your Direct Debit will be adjusted automatically by our Finance Team – you don't have to do anything. This is explained in full in your rent increase letter.
---
  What is the timescale for this rent increase?
The rent increase notice letters formally informing you of the rent increase have been sent out to you with a minimum of one month's notice. The letter also features a breakdown of the charges for your home and guidance on how to pay.
If you do not accept the proposed new rent, you can refer to the Rent Assessment Committee (RAC) who may agree the proposed rent, instruct us to reduce the rent or even instruct us to increase the rent.
Details of how to contact the RAC is contained in your rent increase letter. The rent increase will apply from 6 April 2020.
If you have any further questions, please call 0345 123 1745.
---
Here to help
Money Advice Service
Did you know that we have a dedicated team of Money Advisors who are here to help if you're struggling with your finances? Based across our operational area, the team work closely with our customers to ensure that they're receiving the benefits they're entitled to, properly tackling any debt they might have and provide additional support with budgeting.
Meet our advisors
While our advisors are spread across our operational area, depending on your circumstances, they will be happy to visit you at home, speak to you over the phone or arrange for you to visit one of our offices.
Employment and Training Advice
We can also provide you with tailored support if you are looking for work. With a background in recruitment and career advice, our Employment and Training advisor Rob Friday can help you with the steps you need to take to find work or education opportunities.
This can include training and work experience to suit your needs, as well as CV writing, interview practice and a range of tried-and-tested job-hunting techniques.
---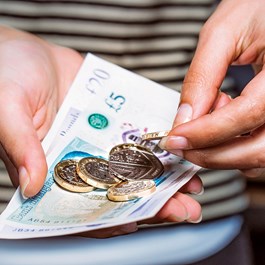 'Money advisor worked miracles to improve my family's lives'
Mum of two Lisa Anderson had heard so many scare stories about Universal Credit that she had avoided applying, meaning she and her family were living off just £80 a week and facing the very real prospect of losing their home. However, that all changed when she reached out to our Money Advice Service for help. From living on £80 a week, thanks to our help, the family's income was boosted by an extra £277 a month.
"They're miracle workers. "It's really got us sorted and I can't thank them enough. They genuinely do seem to care and it's not just as though they're doing it for a job. To anyone else in my situation, my advice would be to go for it."