Work starts on Grantham development that will provide 46 affordable homes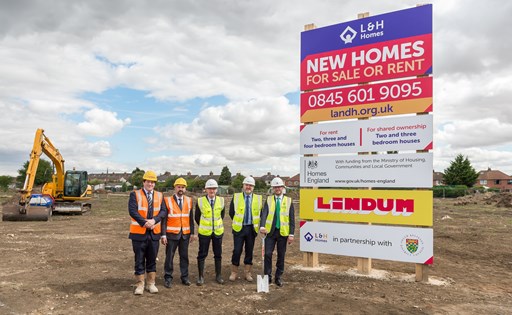 Work is now underway on a new housing development that will bring 46 affordable homes to Grantham.
Due for completion in October 2019, the Hanbury Avenue site will be delivered by Lincolnshire-based L&H Homes (part of Longhurst Group), with contractors, Lindum.
As one of region's leading developers and largest housing groups, Longhurst Group provides homes across the Midlands and East of England and is committed to investing in communities and providing much needed affordable homes
This development will offer a mixture of two, three and four bedroom houses for affordable rent and two and three bed houses for shared-ownership. It has received support from South Kesteven District Council and Homes England, which provided £538,214 in grant funding. Longhurst Group itself has invested just under £900,000 of Recycled Capital Grant Funding, in addition to their own reserves.
Start on site was recently marked with a sod-cutting event, attended by key figures from Longhurst Group and Lindum as well as local councillors, including the leader of South Kesteven District Council, Councillor Matthew Lee.
Speaking at the event, Ian Jackson, Longhurst Group's Executive Director of Portfolio Investment, said: "We're delighted to have started work on this exciting development, which contributes to our aim of building around 3,000 new homes by 2020.
"We've developed a lot of properties over the last five-years in Grantham and this is a continuation of the good work we've been doing to provide much needed affordable homes for local people.
"South Kesteven has been one of our most important partners for quite some time now, we have a very good working relationship with them and we continue to see the positive results of our partnership like this exciting project on Hanbury Avenue."
Councillor Matthew Lee, Leader South Kesteven District Council (SKDC), said: "I'm absolutely delighted to be here to see the start of work on this development.
"For me a council is not just about granting planning permission, it's actually about getting out there and getting involved itself with companies and getting house building on the ground.
"For SKDC, housing is incredibly important but we're not just talking about private sector for sale housing, we're talking about affordable housing and social housing. It's about creating that blend which this site delivers and I'm so pleased to be here to see the work begin.
"Companies such as Longhurst Group are an essential part of what we want to do here, it is based across Lincolnshire, its knowledge and ability to help us deliver is absolutely superb."
MD of Lindum Construction, Simon Gregory, said: "The Lindum team is very pleased to have started work on these eagerly-awaited affordable homes in Grantham, which follow on from the recently completed Kane Close scheme in Coalville.
"As a Lincolnshire construction company, which employs Lincolnshire people, we are happy to be working with Longhurst on a project that will enhance the local neighbourhood.
"Our construction teams have proven expertise in delivering such schemes and this project further cements our relationship."