Walsall MP backs unique support and training scheme for Longhurst Group customers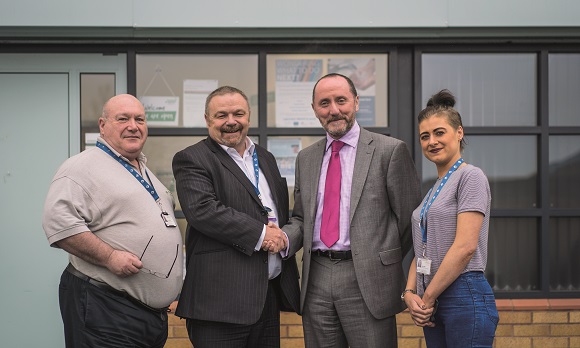 MP Eddie Hughes has pledged his support for Longhurst Group's innovative scheme that has helped to transform the lives of social housing customers on a Walsall estate.
The House2Home scheme, from Birmingham-based Friendship Care and Housing, has supported hundreds of customers on the Beechdale estate since its launch in 2015.
The scheme trains customers in a range of tenancy matters from sourcing affordable furnishing to accessing rent statements online and is designed to help develop life-long skills as well as helping to sustain successful tenancies.
It is the second House2Home project that Friendship has established, following a successful pilot scheme in Sparkbrook, Birmingham.
FCH is part of Longhurst Group and manages 1,246 homes on the Beechdale estate, with 1,674 customers.
As well as representing Walsall North as its Conservative MP, Mr Hughes is also the chair of WHG Housing Association.
Speaking as he was introduced to the project by Longhurst Group's Executive Director of Partnerships, Jonathan Driffill, Mr Hughes said: "It was great to meet with people from Friendship Care and Housing and learn more about the fantastic work that they do on Beechdale, through the House2Home initiative.
"The idea that people can be supported as customers to ensure that they can sustain their tenancy and get help with things like obtaining furniture and household maintenance, is fantastic.
"It's brilliant to see that work being done, long may it continue and as MP for the area, I hope to be part of it."
Jonathan Driffill, said: "It was fantastic to welcome Eddie to Beechdale and show him what a fantastic estate it is, which buzzes with a real sense of community spirit.
"We're very proud of Beechdale and have maintained our long-standing commitment to improve the lives of our customers who live here.
"Through Friendship Care and Housing, we do a lot of work with the local community and House2Home is a shining example of how we go above and beyond to help our customers.
"It's great to hear that Eddie is an advocate of the initiative after seeing it for himself during his visit. We thank him for his support and look forward to working with him in the future."
Sufiah Bibi, who was the project's first customer on Beechdale, added: "I learned so much after just one session at the House2Home project.
"I took part in a DIY session and learned about decorating and furnishing a home; I've even passed on a few tips that I learned to other people!
"It was a great experience. I have signed up for more employment training, and I'd love to volunteer there myself."
Watch a video of his visit below!