Ukraine - Our response
The ongoing invasion of Ukraine has led to a huge humanitarian crisis and, as an organisation, we want to play our part in the UK's national response.
We're currently in discussions with our local authority partners to review what housing we can offer to those fleeing the conflict and supporting housing applications where we can, while recognising our ongoing commitment to our current customers.
Meanwhile, earlier this month, colleagues from across the organisation came together to show their support for Ukraine by wearing blue and yellow to work.

This fantastic idea came from one of our Income Recovery Officers, Gintvile Radzeviciute. We asked colleagues to share photos of their outfits throughout last week, and, for every photo shared, we made a donation to the British Red Cross Ukraine Crisis Appeal.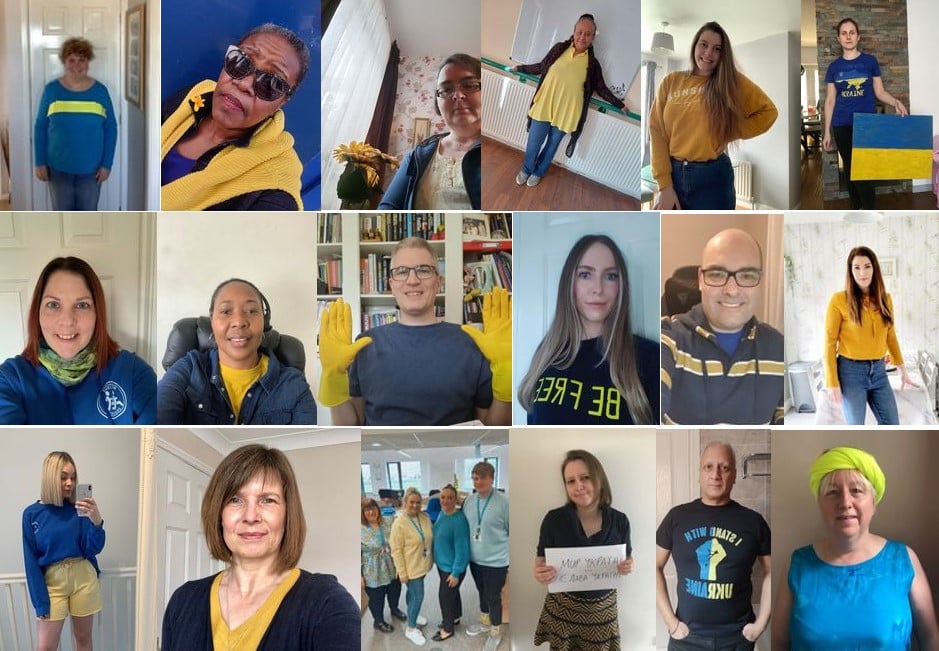 'Homes for Ukraine' scheme
We also want to support those customers who wish to volunteer for the Government's 'Homes for Ukraine' sponsorship scheme.
The scheme offers a route to those fleeing Ukraine who want to come to the UK and who have someone here willing to provide them with a home.
It enables individuals, charities, community groups and businesses to volunteer accommodation and provide a safe haven for those forced to escape their homeland.
As part of this scheme, people are asked to offer up a rent-free space in their home or a separate residence for at least six months. They aren't expected to provide food and living expenses but can choose to do so.
All applicants to the scheme – both sponsors and those coming to the UK from Ukraine – will be vetted by the Government and will undergo the necessary security checks.
While we want to support customers who are prepared to open their homes to support refugees, as your landlord, we ask that customers get in touch with us first before applying to the scheme.
This is really important as it'll enable us to check that we're able to support your application.
We'll need to check:
That there's sufficient room in your home. If your home is already fully occupied or overcrowded, then you should not apply. Please note, that to apply for the scheme, you must be able to offer a separate spare room – not just a sofa or similar.
That any ASB, tenancy or lease breaches or property condition issues are fully reviewed prior to the application being made as permission may be refused as a result.
You don't have any significant rent or service charge arrears on your account and no legal notices have been served as, again, permission may be refused as a result.
That the tenure type of your tenancy is suitable for you to be a sponsor.
For leaseholders, we need to check that your lease doesn't have any restrictions that would prevent you from being a sponsor, such as age restrictions for our retirement schemes.
Whether you have any pets in the household (in the event that the people coming to stay with you would bring a pet of their own).
Leasehold customers must speak to us about their application to the scheme.
If we're able to support your application and it's approved, we'd ask you to let your local authority (Council) know that we're your landlord. We'd then need you to tell us the name of your liaison contact at the local authority, who'll be appointed to you as part of your sponsorship.
We'd work with your local authority throughout the duration of your sponsorship to ensure you're given all the support you need.  
If approved, each sponsor (household) will be offered a tax-free 'thank you' payment of £350 per month per resettlement group, for up to 12 months. It's important to say that this isn't rent and the payment doesn't come from Longhurst Group.
If you're in receipt of any benefits, particularly Housing Benefit, you'd be expected to inform the Department for Work and Pensions (DWP) of this to ensure the thank you payment doesn't impact the benefit amount you receive.
For more information on the scheme, please click here.
Further specific local details can be found on your local authority's website.
How you can help
Donations
Should you want to, you can help people in Ukraine by making a donation to the DEC's Ukrainian Humanitarian Appeal – they work with many charities, including the British Red Cross, to provide food, water, shelter and healthcare to refugees and displaced families.