MP pledges support for new development in Peterborough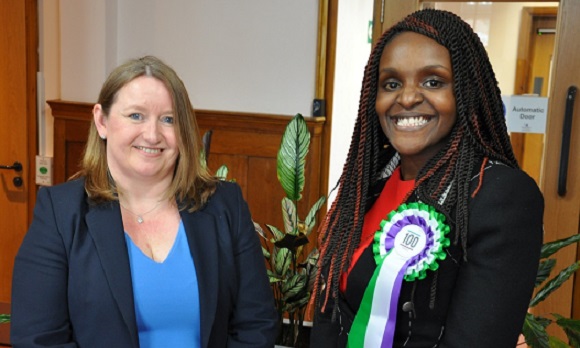 Peterborough MP Fiona Onasanya has welcomed Longhurst Group's new housing development in Bretton, saying it will provide the kind of homes that are 'very much needed' in her constituency.
Bretton Woods is regenerating the site of a former community school, creating 68 new homes for affordable rent, shared ownership, market rent and outright sale.
The £7.6million project, which began in July last year and is expected to be completed by February 2019, is the result of a successful partnership between Longhurst Group - which includes Peterborough-based Axiom - Peterborough City Council and contractors Lindum.
The Labour MP said: "I think Bretton Woods sounds like an absolutely fantastic development. It's brilliant that we're getting more homes in Peterborough."
"I have asked about the affordability of these properties because sometimes, with affordable homes, you have to ask who they're affordable for, but I was pleased with what I heard.
"Also, it's good that the developers have looked at a derelict site of a demolished former school, which had issues of anti-social behaviour in the past.
"It's creating a brilliant asset for the community, providing affordable homes for people and families who need it, through shared ownership or affordable rent – it makes complete sense and I welcome it.
"I think it's very much needed in this area," she added. "I did ask if they'd had much opposition to the development at the planning stage and they said they hadn't, which I wasn't surprised to hear, because the area needs it.
"Sometimes, you have to think outside of ourselves and ask what the legacy we're trying to leave is and who we are trying to help. This development is creating affordable homes for the future and helping those who need help taking their first step on the property ladder."
Ms Onasanya was speaking at a meeting at Axiom's head offices, where she met with Longhurst Group's Executive Director of Care and Business Partnerships, Louise Platt and Executive Director of Housing Services, Sharon Guest.
She added: "After meeting with Longhurst Group, I have to say, I'm very impressed,"
"It was fantastic to hear what we, as politicians, can do to help housing associations to achieve their aims and provide the homes and services that our communities need.
"It's absolutely paramount that we work together in this way to fix the housing crisis that we have in the country.
"We, as politicians, can sit there and say we think housing associations should be doing, but really, what should really happen is that we speak to the people on the ground and see what can do to support and help.
"I found it a very productive and helpful meeting."
Louise Platt added: "It was fantastic to meet with Fiona, hear about her experiences as an MP and to discuss her interests across a range of topical national and local housing-related issues.
"We took the opportunity to introduce our development at Bretton Woods and describe how Longhurst Group is playing its part in fixing the country's broken housing market by providing affordable homes and care and support services that improve the lives of those living in our communities.
"It was an excellent meeting and we look forward to working in partnership with Fiona as MP for Peterborough."
(Photo: Peterborough MP Fiona Onasanya with Executive Director of Housing, Sharon Guest)