How Longhurst Group's Community Grants Fund is helping organisations to make a difference
Longhurst Group's Community Grants Fund has enabled community groups and not-for-profit organisations across our operating region support thousands of people.
We donated around £50,000 across 10 groups which demonstrated how the work they do in their communities aligned with our Improving Lives strategy.
Recipients of the money had to show how they could support the health and wellbeing or economic resilience of people in the communities in which they operate.
Now, several months after the money was distributed, examples of the difference it's making have started to emerge.
SOLDAS Boston Women's Aid received funding, which went towards the costs of providing its Spalding Hub.
Here, services were offered to survivors of domestic abuse in the Spalding and surrounding areas.
Lucy Watts, Funding and Communication Officer, said: "We're aware that people living in rurality may have less access to support services, so these hubs are a vital lifeline to many.
"We were fortunate to secure funding from Longhurst Group towards the cost of the Spalding Hub, which enabled us to offer these services.
"There's no limit to the number of sessions we provide to our survivors, we're there for as long as they feel that they need the support.
"In some cases, people re-refer themselves into our service as their circumstances change or they feel they need support in other areas such as needing legal advice relating to a Child Contact Order."
Some of the support and services provided at the Hubs include relevant legal support, help to flee domestic abuse, including referral to refuges, help in getting back to work through signposting to training, confidence building courses and CV writing support and access to free counselling services to support emotional wellbeing.
Meanwhile, in Walsall, unpaid carers were able to enjoy a series of activities and expert advice on topics such as benefits thanks to money secured via the fund.
Walsall Carers Centre received £5,000 as part of the programme, which has enabled it to provide services and days out for unpaid carers across the region.
The funding has helped a carer who'd been declined Personal Independence Payment to successfully appeal against the decision and subsequently receive the higher rate of payment.
Meanwhile, an elderly couple in their 90s discovered they were each entitled to Attendance Allowance, but needed help to complete the application.
With help from the group, they were both awarded Attendance Allowance, enabling them to be able to afford extra bills.
These two instances alone have resulted in benefits totalling £12,438.40 per year.
Additionally, trips to Trentham Gardens and a 25th anniversary party for the group were provided using the funds.
Andy Hawes, Co-ordinator of the organisation, said: "We're so grateful to Longhurst Group for the money which has enabled us to provide these additional services and day trips.
"Supporting unpaid carers is vitally important and this money has helped us to help those who selflessly help others.
"Providing opportunities for them to meet with people in similar situations as themselves and to get away from their caring responsibilities can have a huge impact on their health and wellbeing, while benefits support can increase their economic resilience too."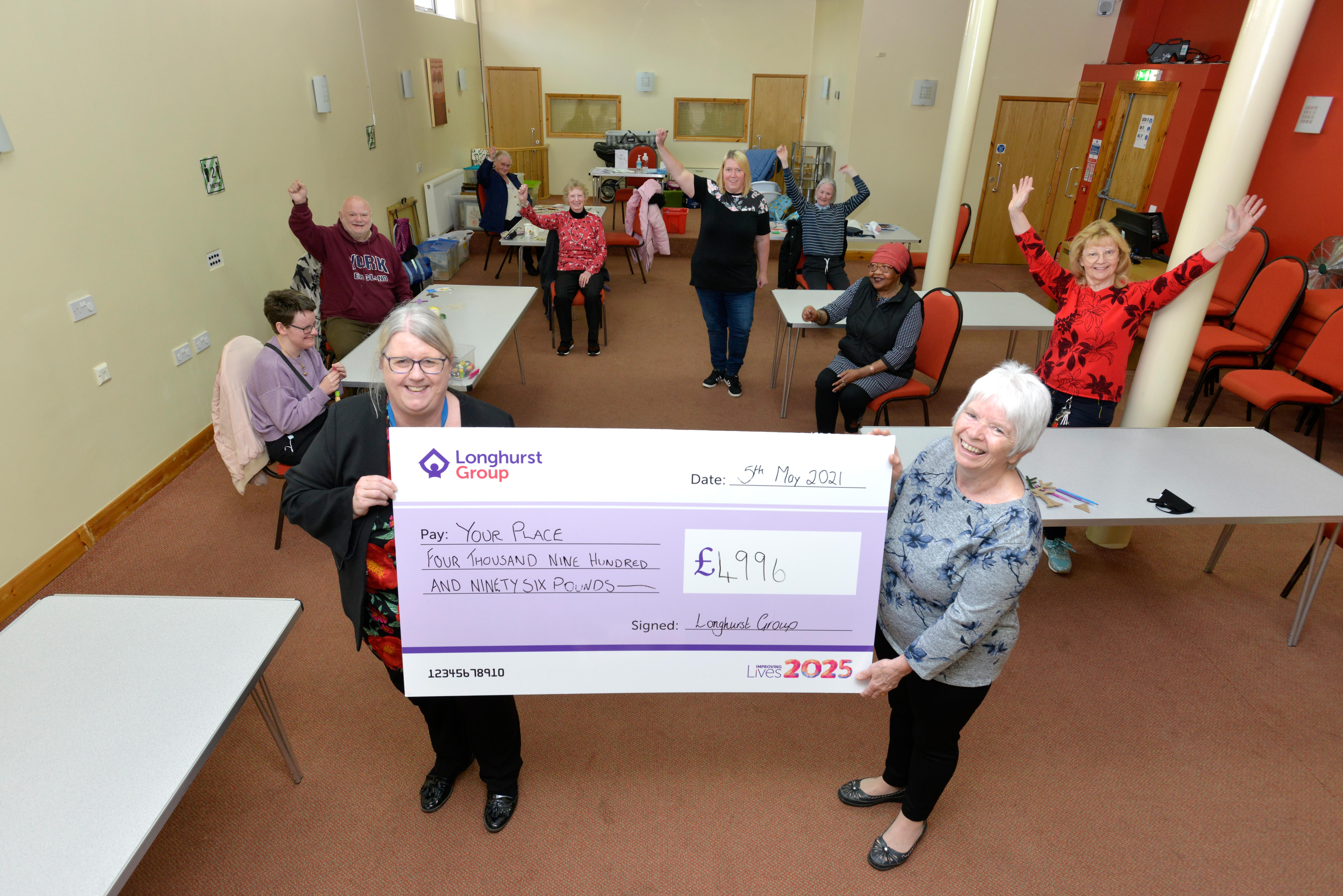 Supporting unpaid carers is vitally important and this money has helped us to help those who selflessly help others.
Other recipients of funding, and how the money has helped them support people's health and wellbeing and economic resilience, can be found below.
Your Place, Grimsby
Your Place Grimsby has been serving the people of the East Marsh for the past 20 years.
The busy community hub acts as a 'friend in the neighbourhood' and offers a wide range of creative, educational, social and recreational activities and volunteering opportunities. 
The money has helped the group continue its services and has helped people meet others, socialise and generally improve their health and wellbeing.
East Northamptonshire Community Services
A local charity which runs services to support those facing homelessness, poverty and addiction, ENCS provides two homeless accommodations schemes and various outreach projects and foodbanks.
Thanks to the Community Grants Fund money, the organisation has been able to support people to move into accommodation, help others get their passport so they can claim benefits and also help somebody find employment.
The organisation has also helped a number of people access medical treatment for a range of mental health conditions and physical illnesses that they'd not have been able to do without support.
Little Miracles, Peterborough
Little Miracles is a charity that supports families with children who have additional needs, disabilities and life-limiting conditions.
At present, the organisations supports over 13,000 children and their families to have happier and healthier lives through a combination of support by way of counselling, benefits advice and emotional support, training and developing for parents and young people and days out and holiday clubs.
Thanks to the Community Grants Fund money, Little Miracles has been able to continue to offer its support services to those in need, including supporting a family which was moving closer to debt while trying to fund funeral expenses. This support was in the form of food deliveries and helping to access financial support to meet the costs.
Another example saw Little Miracles help a travelling family complete an application form for Disability Living Allowance and guide them through a subsequent tribunal, which was successful.
Carers Support Service, Grimsby
As a charity which supports unpaid carers in North East Lincolnshire, Carers Support Service in Grimsby used their windfall to start up a new project.
They used the money to get the Men's Shed project off the ground.
This has helped several people tackle isolation and loneliness and provided opportunities for many people to socialise with like-minded others.
A recently bereaved carer was left as sole carer for another family member. He's very isolated and misses having someone to chat with. However the workshop was particularly helpful in improving his confidence to meet and talk with new people. 
A Christmas woodwork session was also organised, which proved very popular. A tutor came along to show the group how to make a Christmas tree decoration. Future woodwork sessions are now planned due to their popularity.
Northampton Hope Centre
The Northampton Hope Centre is a charity that supports those living in poverty. This financial difficulty could have resulted in them struggling to feed the family or ended up with a life on the streets.
The charity offers immediate crisis support through its HandUp service for the homeless, offering a drop-in service of support, with a move-on programme to support housing and personal development to enable individuals to live independently and look towards an independent life with fulfilment and employment.
They've been able to help people access mental health support groups, access employability and life skills support and run budgeting courses among other support services.