Helping to wrap up South Kesteven's 100th affordable home – just in time for Christmas!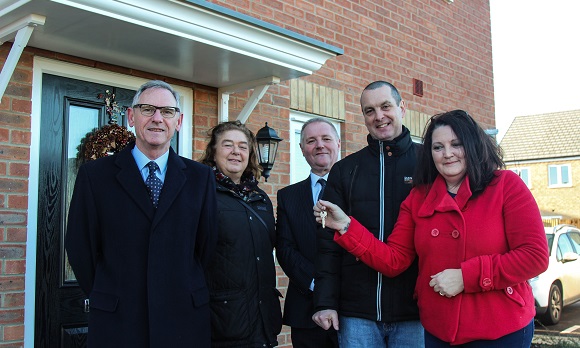 Longhurst Group has helped to deliver the 100th affordable home in South Kesteven, with its new occupants now looking forward to celebrating Christmas in a brand new house.
Matthew and Melanie Ronan's three-bedroom house on Elsea Park in Bourne has been delivered as part of South Kesteven District Council's (SKDC) affordable housing scheme.
SKDC has worked alongside Longhurst Group to deliver the milestone property on Newton Abbott Way, which is part of a Kier Construction site.
Mel Baker, Project Manager at Longhurst Group, said: "We are delighted to be part of this significant milestone and to continue our excellent partnership with South Kesteven District Council and Kier.
"This property is one of 68 affordable homes that we have already delivered at Elsea Park and, alongside Kier and Barratt Homes, we are looking to develop another 37 in the area in the next two years.
"As the demand for this type of housing continues to grow, successful partnership working between local authorities, housing groups and developers remains absolutely crucial."  
For the Ronans, the move to Newton Abbott Way is a massive relief, as their previous private sector home is being sold.
Melanie said: "I could not believe it when we heard this house was available,"
 "We feel very lucky. The private sector is now so expensive and, as a family with two children and two dogs, it's not always easy to find anywhere suitable to rent.  This house is really nicely finished. It's beautiful!"
Councillor Nick Neilson, SKDC Cabinet Member for Communities, said he was delighted to see the district's 100th property completed, adding: "There is enormous demand for more affordable homes across the district and I appreciate all the effort our staff put in to work with registered housing providers, co-ordinate the funding and get them built.
"We are committed to delivering more affordable homes wherever and whenever we can."