Community Heroes Awards winners revealed
Community Heroes of 2021 presented with hampers as Longhurst Group says 'thank you'
We're delighted to announce that 14 customers and community organisations have been crowned as Community Heroes Awards winners for 2021.
We invited nominations from customers and colleagues earlier this year and we were delighted with the response.
Having gone through each and every one, we're honoured to have been able to present our winners with a hamper and certificate.
The Residents R Us community group on Beechdale in Walsall has also been named a winner – with volunteers and members having a buffet lunch provided as an alternative prize.
Sue Crask, Community Investment Lead, said she was humbled by some of the nominations received.
She said: "First of all, I want to say a huge thank you to everyone who submitted a nomination this year.
We've received some truly humbling entries and some of the stories of what our customers have been doing in their communities are wonderful.
"It's been a tough year once again, but as the winners of our awards show, there's some great work being done in the community to help the more vulnerable or isolated.
"I hope all our winners enjoy their prize."
One winner is Ron Davies, from Beechdale in Walsall. He's spent the last couple of years making wellbeing calls to other isolated and vulnerable residents on the estate.
He started this voluntary role after losing his wife Doreen after more than 60 years of marriage.
Ron said: "It's a surprise to me and my daughter, as she's wary of me doing too much at my age. I'm 87 now but I'm happy doing it as it means I'm not sitting in the bungalow on my own.
"Even if I'm sat here, I'm keeping active by speaking with people. I'm also still volunteering up at the centre.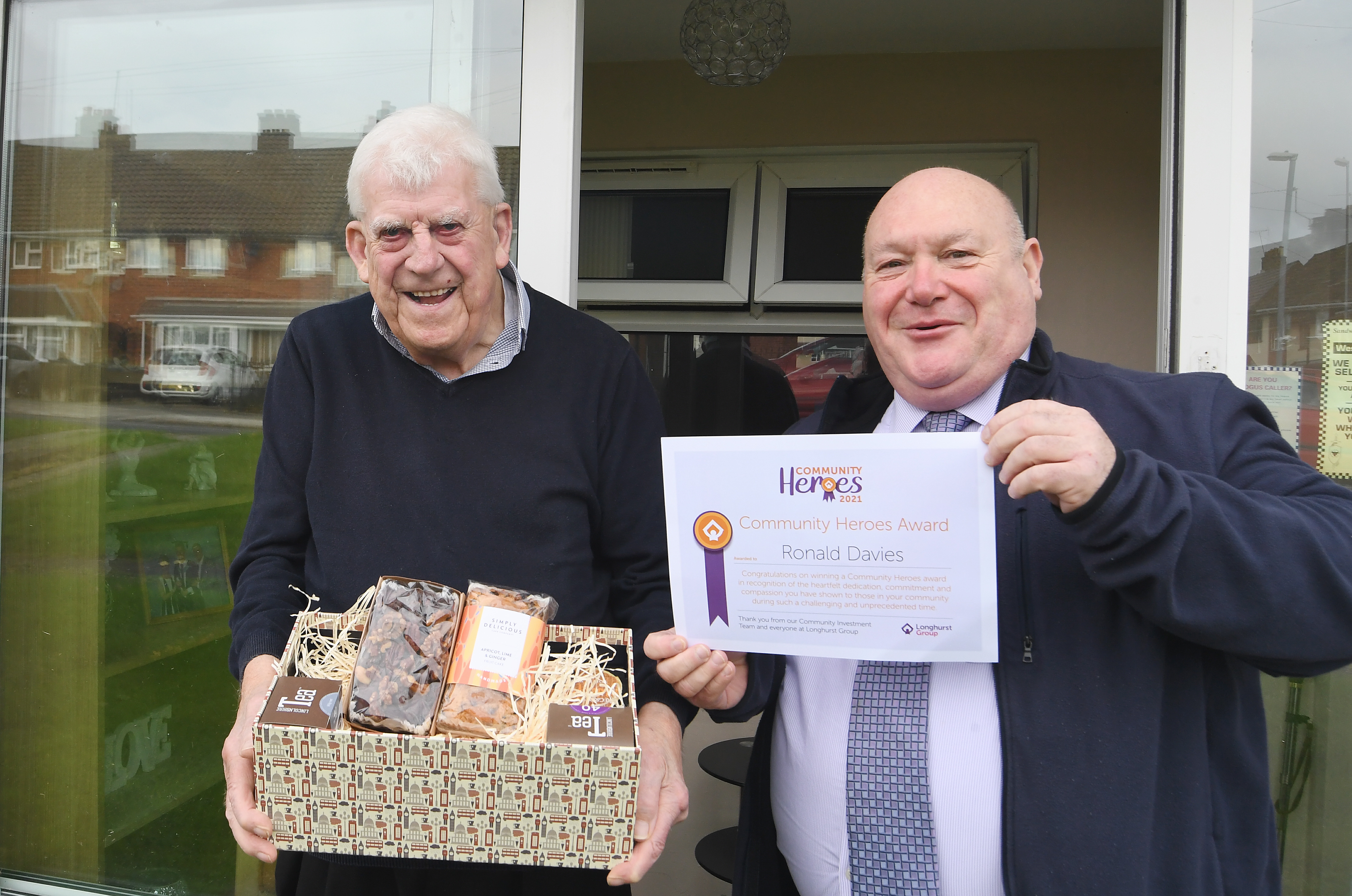 Ron Davies receiving his award from Maurice Hegarty, Community Investment Lead at Longhurst Group.
It's a surprise to win this award, but it's also very warming to know that people value what I'm doing. Some of the people I call even call me back out of the blue because they enjoy the chats.
"As long as I'm able to keep going, I plan to carry on with it."
Also in Walsall, Sue Lycett, a key figure in the Residents R Us community group has been named as a winner. The group has also won an award after a number of community initiatives, including launching a community shop for residents and a number of community events throughout the year.
Sue added: "I can't believe I've won this award – and one for the group as well. I'm so overwhelmed and chuffed.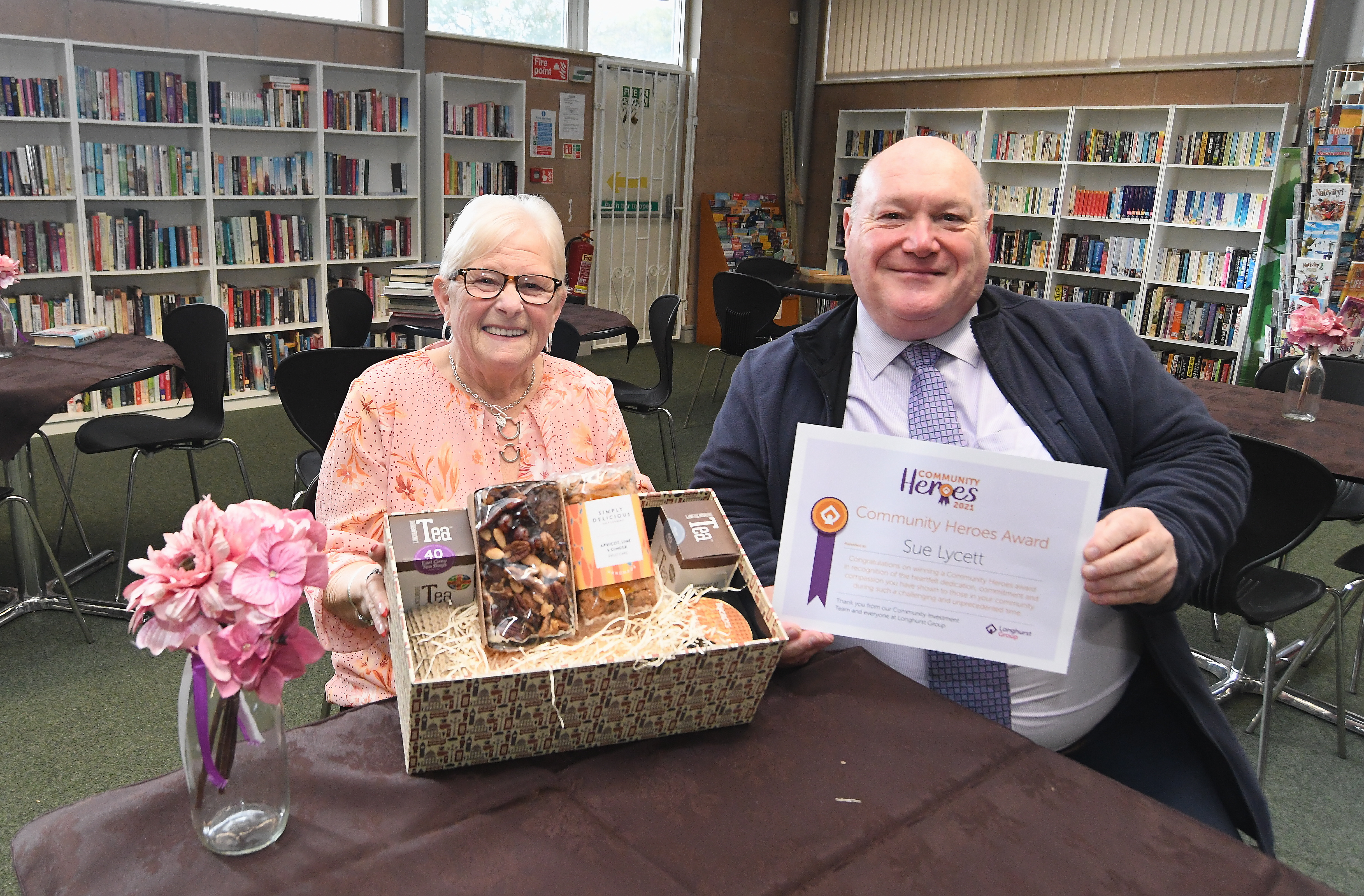 Sue Lycett receiving her award from Maurice Hegarty, Community Investment Lead at Longhurst Group.
Winning this means so much to me after years of hard work in our community helping others. I'm humbled that people in our community recognise the work of Residents R Us.
"I obviously couldn't do what I do without the members and volunteers of Residents R Us. They're all fantastic and help and work with me every day.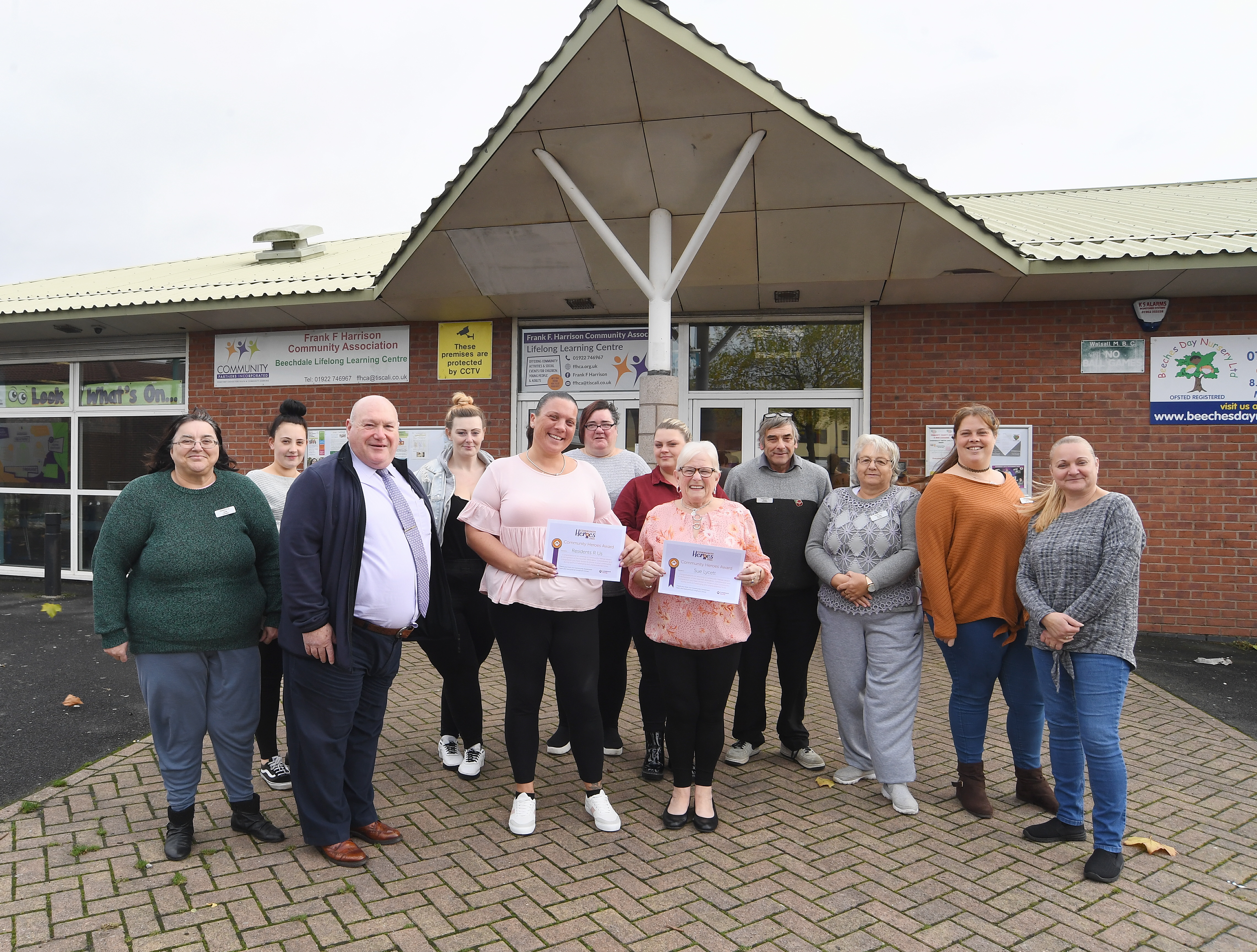 The Residents R Us group receiving their award from Maurice Hegarty, Community Investment Lead at Longhurst Group.
I'm proud of each one of them for their loyalty and support and we've even become great friends.
"I'd just like to say thank you from the bottom of my heart."
Mavis Yaxley, from South Bretton, Peterborough, was also named as a Community Hero. She goes above and beyond in helping neighbours and also keeps an eye on the scheme when colleagues are not on site.
She said: "I was shocked and surprised when I was told I'd won – it was a lovely feeling!
"I probably get the sense of wanting to help from my grandmother – she used to go around helping people all the time. If I see people struggling, it just feels right to go and help them.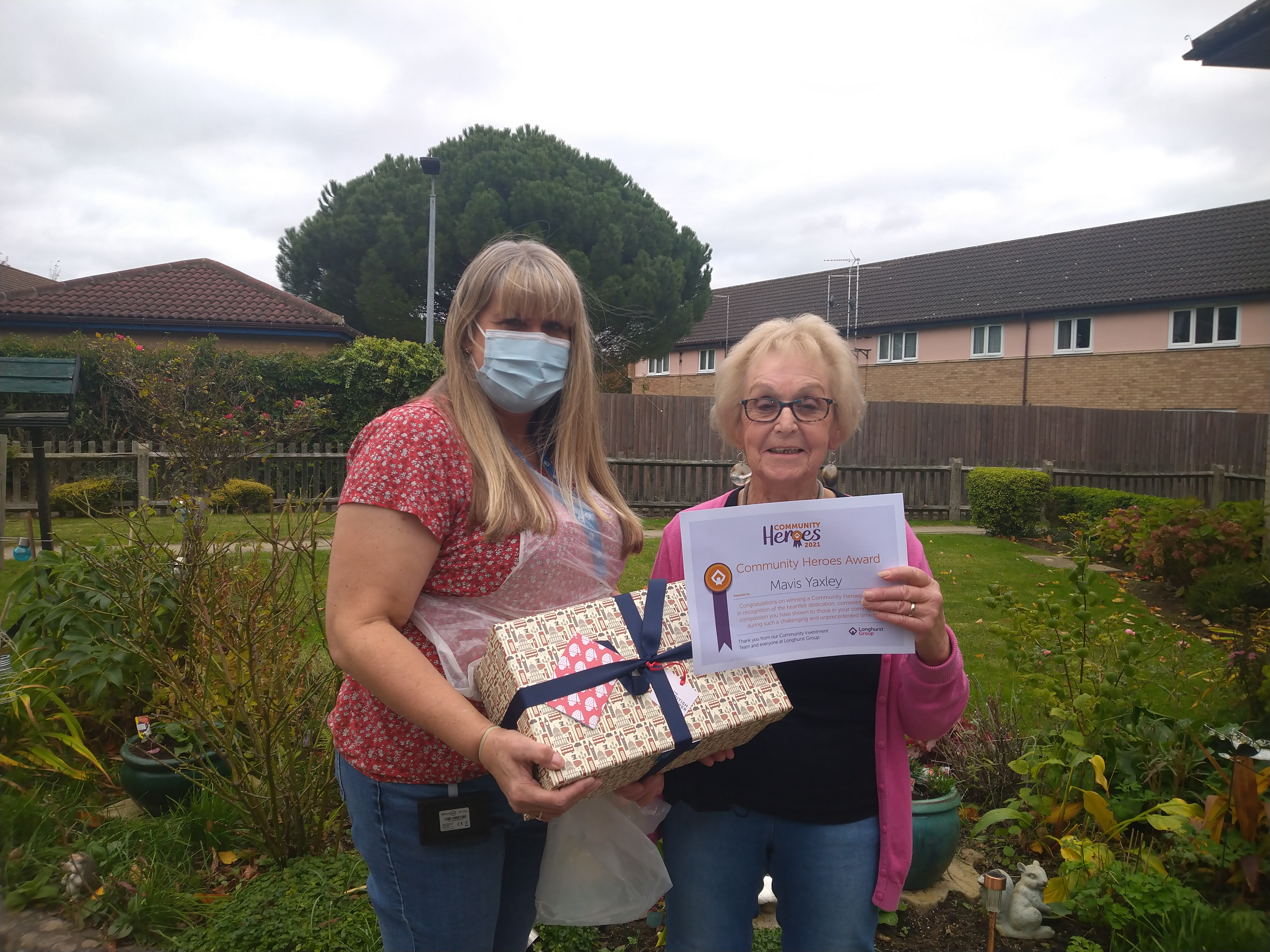 Mavis Yaxley receiving her award from Jeanette Trower, Scheme Manager at Longhurst Group.
It's not nice seeing people struggle, so you don't think twice about it, it's just something you should do.
"If you were in the same situation, you'd like to think somebody would help you, so I can't just walk away.
"I'm so grateful to have my name put forward. You don't think anything of it when you're doing these things, then when somebody rings you up to say you've got an award, it's wonderful.
"I just do it as I think it's the right thing to do, not to win any prizes."
---
The winners in full
---
Winners from previous years
In 2020, colleagues were encouraged to nominate those who'd done something during the year that made a difference to their com…