Volunteering…'It's a beautiful thing!'
AN inspirational woman, who has turned her life around through volunteering, has decided to share her story as part of National Volunteers Week.
Four years ago, Maria Urmos, 49, from Nechells in Birmingham was broken. She was depressed, with no confidence and lived a life without routine or purpose.
However, the full-time carer of five says that all changed when she decided to apply for voluntary work.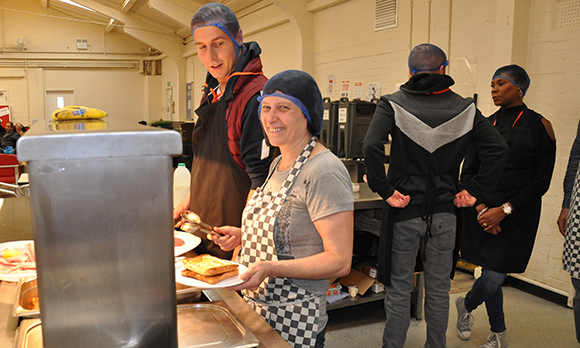 A customer of Friendship Care and Housing (FCH), Maria was referred to employment and training advisor Rob Friday, who worked with her to secure a voluntary role at SIFA Fireside in Birmingham, a charity which provides food, clothes and support to the city's homeless and vulnerably-housed.
With a qualification in catering that she hadn't previously been able to put to use, Maria began working in the kitchens for two days a week to help provide the 3,404 meals that Fireside serve up every month to some of the area's most vulnerable adults.
Today, now volunteering five days a week and with her confidence fully-restored, Maria has recently been nominated for a national Volunteer of the Year award by her colleagues and says she feels like a 'completely different, better person'.
"I always say that I didn't really know Maria before, but volunteering has helped me to meet her and I like her. It's a beautiful thing," she said. "It gives me a purpose and a reason to get up in the morning.
"Before, I would just sit down in front of the TV all day, smoking cigarettes and drinking cups of tea, with no-one outside of my family to talk to.
"I was completely broken if I'm honest, I was depressed, crying all the time and feeling like I'd never get a job. Employers want experience but no-one was prepared to give me that chance to get experience."
"When I first went to see Rob Friday and he talked to me about volunteering, I never thought anyone would take me on, but he guaranteed that there was something out there for me through volunteering and he was right. He's got me back on my feet again and I can't thank him enough.
"I feel like a completely different, better person now. I love volunteering, in fact, at the weekends, I realise how much I miss it – I can't wait for Mondays to come around again!
"Every day is different and I really feel like I'm giving something back by helping people. Thanks to volunteering, I feel like a worthy person again."
She added: "My message to anyone thinking of volunteering is just to do it, even if it's only a couple of hours a week. I guarantee it'll make a big difference to you and the people you're helping.
"You've got to want it for yourself, but with help from people like Rob, you can get there."
Rob, who works with customers of FCH and those of other member associations from Longhurst Group, said: "I first met Maria about four years ago now. She felt like she was sat at home doing nothing and she wanted to make something of her life.
"She had a qualification in catering, but hadn't been able to use it, so was referred to me to try and find some volunteering opportunities that would enable her to put those skills to use.
"She's been at SIFA for almost four years now and she basically helps to run the place! She's a shining example of what volunteering can do and she should be very proud of what she's achieved."