Spire Homes team up with firefighters to help save lives
Spire Homes is helping to save lives by providing realistic training environments for Leicestershire Fire and Rescue Service (LFRS).
The housing association, which manages over 5,000 homes across Northamptonshire, Rutland and Leicestershire, has granted the use of two semi-detached properties on Brooke Road in Oakham to help local crews replicate potentially life-and-death emergency situations.
Andy Wright, Spire Homes' Housing Services Team Manager, explained: "These are homes that we're not going to be re-letting because they need too much money spending on them and we'd much rather divert that money into new affordable housing.
"This site has been earmarked to be redeveloped and so these houses are standing empty. We can't use them for anything else and so we wanted to give them a different purpose that would benefit the local community.
"We have a good relationship with our fire and rescue services and decided to make these homes available to local crews, so that they can practice their drills in a more realistic environment and ultimately, help keep communities safe.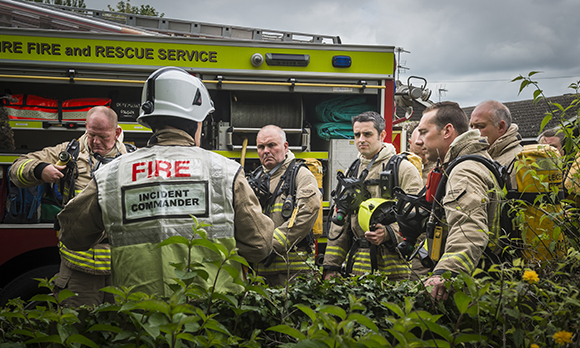 "Hopefully, by enhancing the training of our firefighters, there will be benefits for residents across Rutland and beyond and we're very proud to have played our part in that."
The crew from the nearby Oakham Fire and Rescue Station regularly use the site for training exercises, with firefighters from surrounding stations also making use of the facility.
Recently, they were joined by their counterparts from Melton Mowbray Fire and Rescue Station for an exercise, in which one of the three-bedroomed homes was filled with realistic, yet harmless smoke with crew members tasked with rescuing a dummy that had been hidden inside.
Nearby residents were made fully aware of the plans beforehand so as not to cause concern and the cosmetic smoke that was used for the drill was quickly dispersed following what was hailed by the crews as another invaluable exercise.
Oakham Watch Manager, Wayne Cotton, said: "We're very, very grateful to Spire Homes and Longhurst Group for making these vacant homes available to us.
"It's a fabulous training facility and it really is as realistic as our training can be. Everything that our crews face at a real fire, they also encounter when we hold exercises in these properties, so it really is as good as it gets.
"These kind of opportunities don't come along often, so when they do, we snap them up. I have to take my hat off to Spire and Longhurst Group for making this happen; it's helping us to save lives."
Part of Longhurst Group, one of the largest housing associations in the Midlands, Spire Homes work closely with both LFRS and Northamptonshire Fire and Rescue services to promote fire safety across its operational area.
In conjunction with the neighbouring services, Spire recently produced and distributed hundreds of leaflets for its customers to ensure that they stay safe in their homes.
The housing provider is also currently exploring the possibility of donating furniture which is no longer fit-for-purpose to make future training exercises at the Brooke Road properties even more true-to-life.