Sowing the seeds of a bright future thanks to new community garden
THE opening of a new Community Garden is giving young residents on Walsall's Beechdale Estate the chance to sow the seeds of their future.
Jemma Betts, who works for Friendship Care and Housing (FCH), which is part of Longhurst Group, has transformed a previously disused area of the provider's office into an all-year garden for the whole community to use.
With support from the local branch of Buildbase, who donated hundreds of pounds worth of materials and the hard work of Jemma's partner Kirk, repurposed mini allotment beds have been installed, along with low-maintenance gravelled borders and planting.
The revamped space was officially opened at a special celebration event which was attended by residents of the estate and local councillors along with children of the nearby Beeches Day Nursery, who planted their first seeds in the new garden.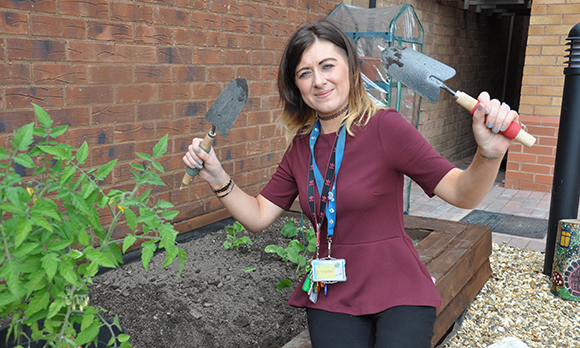 Jemma (below) explained: "I live on Beechdale myself. I'm passionate about the estate and I know what the estate needs.
"I wanted to provide somewhere for the young people on the estate to come, have fun and learn and so I came up with the idea of creating the garden.
"The project has taken a few months now and to see it come to fruition is fantastic. It was really overwhelming to see the children enjoying the garden, planting their seeds and the positivity that it has already helped to create.
"Now, I hope that we can work closely with the nursery and other community groups to hold regular sessions here, helping people to grow their own fruit, vegetables and plants.
"It's about bringing the community together and showing what we can achieve when we work and grow together."
Councillor Lee Jeavons, Deputy Leader of Walsall Council, was full of praise for Jemma, the garden and FCH, adding: "This is a fabulous garden and a fabulous idea. Very often, it's the smaller projects like this that make a huge difference to a community.
"Jemma and her partner have put a huge amount of effort into creating the garden and helping the citizens of the future. The young people, in particular, who use this garden are going to get so much from it; from citizenship to healthy eating when growing their own fruit and vegetables.
"I take my hat off to Jemma and Friendship Care and Housing for what they've created for the community."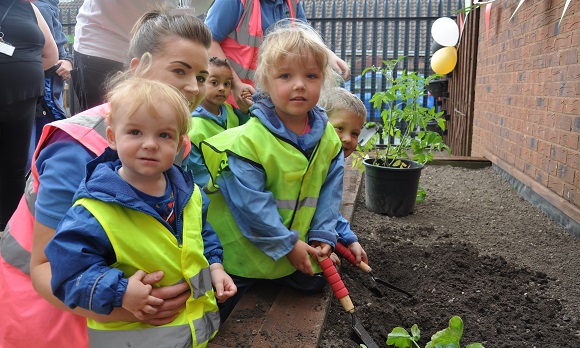 Brenda Phillips, a resident of the Beechdale Estate, said: "I think the garden is fantastic. It's good to start the children while they're young so they learn to appreciate things like this.
"Jemma works incredibly hard and she is a huge part of the community, we love her to bits and we can't thank her enough for doing things like this for us."
Jonathan Driffill, Executive Director of Partnerships, Care and Communities at Longhurst Group, added: "I am immensely proud to see the garden officially open.
"It was Jemma's brainchild to help foster a sense of pride in the estate and I think it will absolutely do that.
"Back in 2011, we made a promise to the estate that we would continue to do great work with the community and this garden is the latest in the long line of examples of the work that we do here on this fantastic estate."