Shoe factory redevelopment shortlisted for top industry award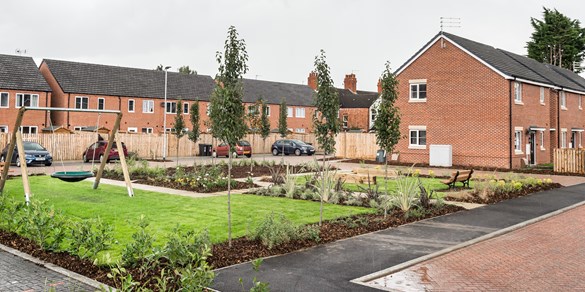 Longhurst Group's redevelopment of a former Rushden shoe factory into 46 new affordable homes has been shortlisted for a top industry award.
Allen Road, from Spire Homes – part of Longhurst Group – and developer Westleigh Partnerships, transformed the derelict site that was once home to the Grenson Shoes factory, creating 32 homes for affordable rent and 14 properties for shared ownership.
The £5.94million development, which was completed in May 2017, has now been shortlisted for the Best Regeneration Project award at the 2018 Inside Housing Development awards, which will be held in London in November.
Nick Worboys, Longhurst Group's Director of Development and Sales, said: "We are absolutely delighted to hear that Allen Road has been shortlisted for this award.
"This shortlisting is testament to the strong partnership work between ourselves and Westleigh, who, together, have delivered a fantastic development that provides high-quality, affordable homes in an area that desperately needed them.
"We're very proud of Allen Road and particularly the fact it has retained the character and heritage of the original factory buildings, so this shortlisting is a resounding endorsement of that work."
Grenson Shoes was just one of many firms from the footwear industry that played a pivotal role in the growth of Rushden as a town. However, since the historic company moved to a purpose-built modern factory in 2013, its premises on Allen Road laid disused.
That was until Longhurst Group and Westleigh regenerated the site into brand new community of affordable homes in a district where, according to latest available figures, the average house price is eight times the average wage.
While the majority of the former factory site was cleared prior to development, many of the listed factory buildings, some of which were derelict, were retained and skilfully incorporated within the development in a design created by Leicester-based multi-disciplinary practice, rg+p.
Ensuring a nod to the site's illustrious past, the development includes a two-storey façade facing onto Cromwell Road, which now forms the frontage of eight new homes. There is also a single storey building that faces onto Allen Road, which was re-configured to provide a row of bungalows.
Gary Turner, Partnerships and Investments Director for Westleigh, added: "We are thrilled by the news that Allen Road has been recognised among the finest regeneration projects in the country.
"The scheme represents our commitment to redressing the shortage of affordable homes locally and has enabled those most in need of housing to get on the property ladder.
"We would like to thank our partners at Longhurst for working closely with us to make this much-needed development a reality."
Rob Woolston, director, rg+p commented: "It's particularly pleasing that Allen Road has been selected as a finalist for such a prestigious national award.
"Its design emphasised the site's industrial heritage whilst creating a mix of modern new homes; we're hopeful the residents will soon be able to say that they live in an award-winning home!"
The 2018 Inside Housing Development Awards take place on Thursday, 29 November in London. For more information, visit idha.co.uk.
The latest shortlisting follows the news that Longhurst Group have also been shortlisted in three categories at the 24housing Awards in October.
Val Paragon, Service Manager at Mary Street Extra Care Service in Birmingham, has been nominated for the Housing Professional of the Year award, Community Champion Jemma Betts is among the finalists in the Community Achievement category, while the Group's Communications Team is up for the Communications Team of the Year award.