Sheltered accommodation residents enjoy fun-filled exercise classes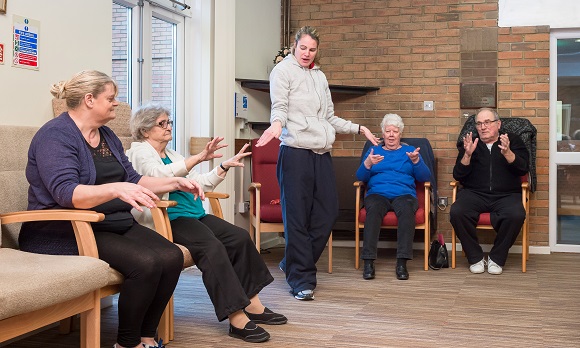 Elderly residents at sheltered housing schemes in Northamptonshire are being given a helping hand in staying fit and active thanks to some fun-filled exercise sessions.
The classes, commissioned by Spire Homes - part of Longhurst Group - are run by Freedom Leisure as part of its active community outreach programme.
The programme has been devised to engage different – often underrepresented – groups in fun activities that are designed to enable more people to stay active, for longer.
Following a presentation to customers, it was agreed to trial a taster session at Spire's Crispian Court in Rushden, with another session planned at Harpers Court in Brigstock later in the year.
The sessions are designed to prevent trips and falls though exercises which customers can do collectively with their neighbours or in the privacy of their own homes.
Led by instructor Hayley Powell, the introductory class was such a success that the classes will now be run every month.
Spire Homes provides over 5,000 properties and care services across Northamptonshire, Rutland and Leicestershire.
Jeannette Kirk, scheme manager at Crispian Court, said: "We have really enjoyed working with the Active Communities team to promote exercise classes at our sheltered housing schemes.
"This gives our tenants and friends an opportunity to exercise in a safe environment and will hopefully bring health and welfare benefits through physical and social interaction.
"We have had really positive feedback from the tenants, who thoroughly enjoy it."
Active Communities Manager at Freedom Leisure, Emma Sylvester, added: "The Active Communities team based in East Northamptonshire are extremely proud of the outreach work that we deliver to enable more people, to be more active, more often.
"It has been an exciting opportunity to working in partnership with Spire Homes and their customers.
"We look forward to continuing our physical activity sessions with Spire and are very pleased with the individual's enthusiasm to improve their strength that will ultimately prevent falls."