Residential home organises family fundraising event
Colleagues at Cranwell Court hosted a special fundraising event in the Willows estate in Grimsby on Sunday, 30 April which raised £1159.71 towards funding the different activities they organise for residents and their families.
The day of fun was hosted at the Willows Social Club on Crossland Road and included a Kids Got Talent variety show to showcase the talents of local children, as well as bingo, a bouncy castle, face-painting, dancing and a raffle.
Children had the opportunity to meet some of their animated heroes as local charity, Memory Mascots, also attended.
Cranwell Court's Lead Activities facilitator, Jacky Aisthorpe, is keen to provide more activities to residents but also wants to give something back to a community that has always donated so generously.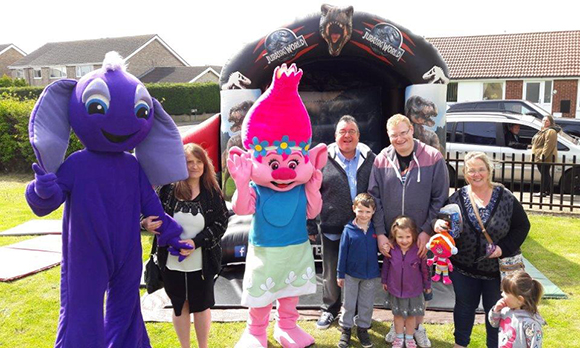 "All of the money we raise goes towards funding activities for our residents," she said.
"That can include day trips to the seaside, celebrating special events with other residents or re-visiting hobbies and activities that people used to enjoy in their younger years.
"Dementia care patients may not be able to remember what happened yesterday but many of them have a story to tell from the past. By reintroducing them to a familiar setting or experience you can unlock memories of happier times.
"This event is also a chance for us to say thank you to the people living in the Willows estate who have donated money for the residents in the past. There was a wide range of different activities and it was a fantastic opportunity for families to get together and enjoy a really good value day of fun."
Cranwell Court, which comprises 52 apartments, is a regional leader in dementia care services. It helps residents suffering with dementia to remain as independent as possible by offering a range of specialist services.
An approach that is proven to help reduce the onset of dementia, this includes providing memory stimulus to encourage conversations, individualisation to help people recognise their apartment more easily and the use of responsive lighting and assertive technology to improve safety.