New development praised for 'revitalising' part of Rutland village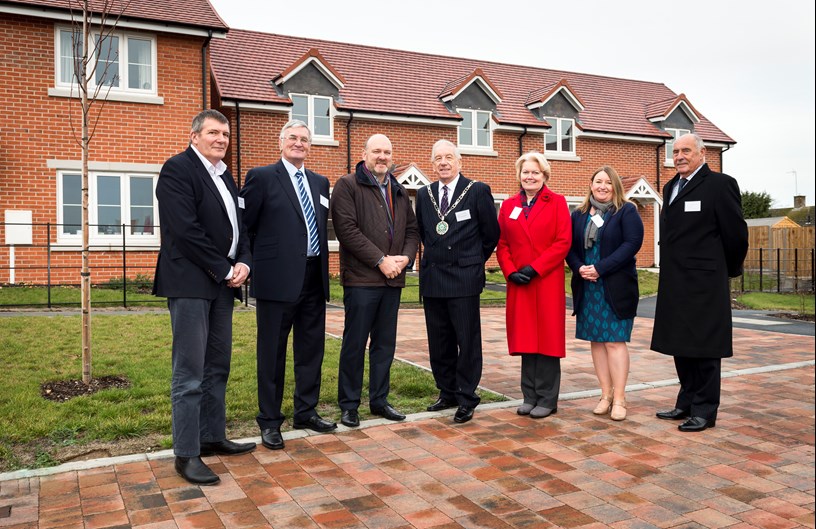 Local dignitaries have welcomed the completion of our new 29-home development in the village of Empingham in Rutland.
Empingham Meadows  has been delivered by Spire Homes (part of Longhurst Group) and Lindum Group to provide six homes for affordable rent, 15 for shared ownership and a further eight for outright sale.
All of the rental properties are now occupied, while those homes made available for outright sale have either been completed or are currently going through the sales process. Only three of the shared ownership properties remain available.
Rutland County Council Leader Oliver Hemsley was in attendance at an event to mark the completion of the development, together with Council Chairman Kenneth Bool, Deputy Leader Gordon Brown and Ward Member Gale Waller.
Longhurst Group Chairman, Bob Wilson, said: "Our development at Empingham is a great example of what can be achieved when organisations like Longhurst Group and Lindum Group work together in real partnership.
"The result is that these quality homes have been built in a place where people really want to live and as part of a welcoming community.
"The positive and supportive role of Rutland County Council and Empingham Parish Council throughout are further evidence of what can be achieved when we work together."
The site had originally consisted of ten concrete homes dating back to the 1950s, alongside a 1960s sheltered housing scheme, which was outdated and no longer fit for purpose.
The completed development, designed by Jefferson Sheard, has added to the provision of affordable housing in a county in which Longhurst Group already manages over 1,300 homes.
Councillor Oliver Hemsley, Leader of Rutland County Council, said: "This development has helped to deliver much-needed affordable homes as well as revitalising part of Empingham.
"Providing more affordable housing for families and young professionals who want to live and work in Rutland is extremely important for our County's future.
"We're pleased that this partnership has succeeded in creating quality new homes and that almost all are either sold or rented."   
Andy Barradell, Technical Director at Lindum, said the project had further consolidated a well-established relationship between Lindum and Longhurst Group.
"It was great to mark the completion of these new homes," he added.
"Construction work involved the demolition of an empty care home and some existing houses and the creation of a new access route for remaining residents.
"Our project manager Darren Leather worked incredibly hard to ensure those living near the site were kept informed of how work was progressing. He produced regular newsletters, spoke directly with residents and had constant dialogue with the Parish Council, especially when it came to disconnecting and redirecting services.
"Access to the site was tight and we battled through some tough weather conditions at the end of last year, so it's really satisfying to see the project finished and the homes occupied."
Photo: From left to right, Rutland County Council Leader Oliver Hemsley, Longhurst Group Chairman Bob Wilson, Longhurst Group's Executive Director, Portfolio and Investment, Ian Jackson, Rutland County Council Chairman Kenneth Bool, Rutland County Council Ward Member Gale Waller, Longhurst Group's Executive Director of Housing Services Sharon Guest and Empingham Parish Council chairman Victor Pheasant.