MP and Mayor impressed by progress of flagship 400-home development
KEY figures have hailed the impressive progress that has been made at Longhurst Group's 'flagship' development.
Carrington Gardens and Humberston Meadows on Humberston Avenue, near Grimsby, is being delivered as part of a joint venture between Keystone Developments, part of Longhurst Group, and Westleigh Partnerships.
When completed, the development will offer a mix of 200 family homes on Humberston Meadows and 200 luxury-living properties for the over 55's across the Carrington Gardens site.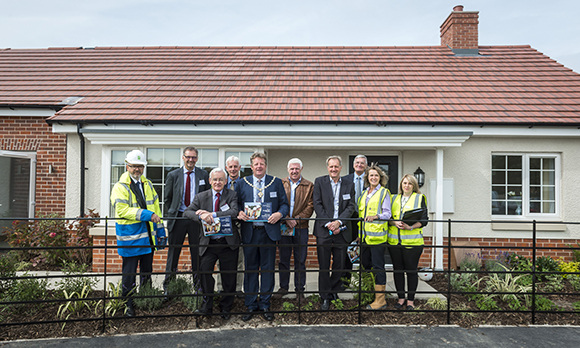 Cleethorpes MP Martin Vickers, Mayor of North East Lincolnshire Ron Shepherd and local ward councillors Stan Shreeve, John Fenty and Stephen Harness were given a guided tour of the site and had the chance to walk around the immaculately-appointed show homes.
Martin Vickers MP, said: "It's an impressive development. We are an ageing society and so we need properties of this kind – there is a high demand for them.
"These are nice homes for those over the age of 55, giving them the opportunity to have a modern property in a very desirable part of North East Lincolnshire, without the hassle of too much maintenance.
"They are clearly nice properties and it has been good to have the chance to see the progress that's already been made on the site.
"From what I was told, the work is going well and I'm sure everyone involved will keep their foot on the gas to ensure the properties are completed as soon as possible."
Mayor of North East Lincolnshire, Cllr Ron Shepherd, added: "It's a very, very impressive development and the amount of open space that has been retained is great to see.
"Certainly what we're seeing at Carrington Gardens and Humberston Meadows is the provision of quality housing and that should be encouraged across the borough of North East Lincolnshire.
"The whole development offers a mix of housing that the area needs and it's the right balance of homes for the over 55's and family housing. They really are excellent, high-standard homes.
"Hopefully what has been achieved here will encourage other developers to mimic it. I'm very much look forward to seeing the development once it's finished."
Having started on site in February last year, the first phase of Carrington Gardens is now well under way, with a number of homes having already been reserved by eager residents.
Nick Worboys, Longhurst Group's Director of Development and Sales, said: "It was a fantastic event. To be able to showcase the scheme, give people the chance to look around the showhome and demonstrate what we do, was fantastic.
"They've seen the mix of properties that will be available here, their build quality and the quality of finish that's available."
Chair of Longhurst Group's board, Bob Wilson, added: "It's been fantastic and our thanks go to our guests for joining us on the tour, we're hugely grateful for them giving us their time.
"They were shown what is basically a jewel in our crown. This is a much sought-after area in North East Lincolnshire and we're very, very proud of this development.
"The invited guests were able to see for themselves, the quality of the build and the quality of finish on offer at the development and learned about how, already, residents are queuing up for these properties."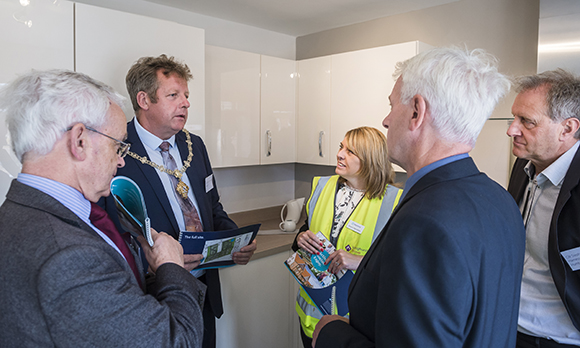 Meanwhile, of the initial 22 homes made available on Humberston Meadows, only six remain on the market at this stage.
Robert Orr, Sales Director at Westleigh, said: "We were thrilled to welcome representatives from North East Lincolnshire Council and Martin Vickers MP to Humberston Meadows. It was a pleasure to take them around the development and explain how we've turned the vision we shared with them back in 2013 into a reality.
"We still have a number of three and four-bedroom family homes available for private purchase at Humberston Meadows, boasting stylish designs in keeping with their exclusive location on Humberston Avenue.
"With the government-backed Help to Buy scheme, these luxury homes are more affordable than you might think, so we'd advise anyone searching for a home in the area to visit www.westleigh.co.uk or drop by at our on-site marketing suite. Your dream property may be waiting for you here."
For more information on Carrington Gardens, visit www.keystonedevelopments.co.uk.