Love is in the air for Cambridgeshire care scheme residents
"Apparently, this kind of thing doesn't happen in a care scheme. When you move in to somewhere like this, you don't expect to find love, but we have!"
Those were the words of 72-year-old Dennis Cartmell, sat hand-in-hand with his new fiancée, Brenda Lang (80).
The pair, who are both residents at The Pavilions – our extra care scheme in Peterborough – got engaged on Valentine's Day, much to the delight of friends, family and staff.
Peterborough-born Brenda caught Dennis's eye on her very first day at the scheme and, as the self-styled 'True Cockney' explains, for him, it was very much a case of love at first sight.
"I came when the scheme first opened in 2008 and I've been here ever since," he said. "I've seen a lot during my time here, but when Brenda walked into the dining room for the first time on May 28, 2018 at 11am, it all changed for me.
"I said to my friend 'By 'eck, she's a bit of alright!' It all went from that first meeting, on Brenda's first day, and we've been together ever since.
"She's the only woman in here that gets flowers every week! I just want to make her happy, that's what I'm here for now."
Colleagues at The Pavilions say Dennis – who admits to previously being 'a bit of a Victor Meldrew' – now whistles and sings everywhere he goes after meeting Brenda.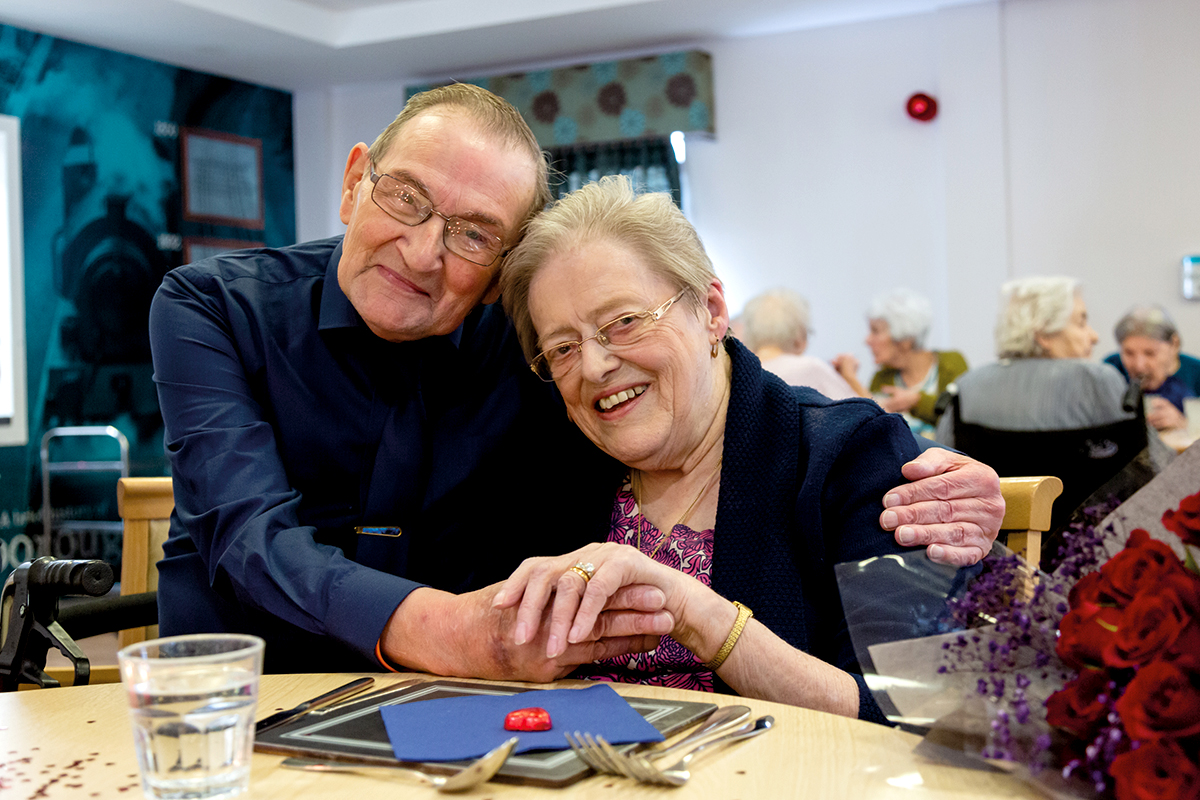 "It feels like I've won the lottery, but even better. Money is nothing, happiness is everything!"
True romantic Dennis surprised Brenda by popping the question in front of fellow residents and staff, with the help of Scheme Manager, Kerrie Casey.
He added: "When I'd decided that I was going to propose, I told Kerrie, and said that I'd need her help.
"I'd been to Poundland to buy an engagement ring – they were selling rings in love heart boxes for £1 which I thought I'd give her until a proper ring was ready!
"At dinner time on Valentine's Day, Kerrie and the care staff began to gather because they knew what was going to happen and the dinner service stopped.
"I said; 'well Brend, will you…' but I didn't get the words out before Brenda said; 'I thought you'd never ask – it's about time!' Everyone clapped and cheered and it was really special. The next day, we went into town and we ordered the proper ring.
"The reaction from the other residents has been unbelievable, they're all so happy for us and so are our families – even her grandsons are calling me Grandad Dennis!"
"He definitely looks after me - I'm not complaining!" added Brenda.
"I like his way, he's got a good personality and he makes me smile. It's just a case of getting a word in edgeways with him!"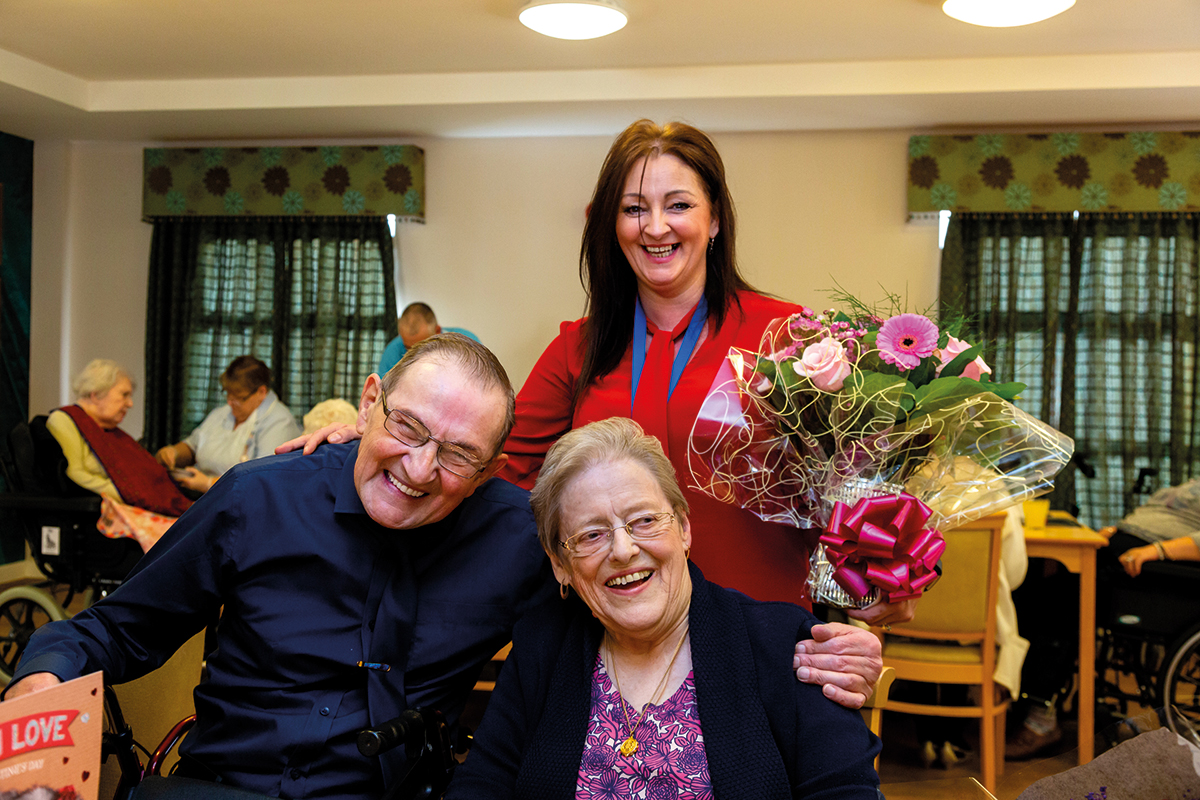 To mark the occasion, the happy couple were presented with a bouquet of flowers from Longhurst Group's Head of Older Persons Care, Sarah Rodwell (pictured above), and celebrated with an engagement party that was attended by their family and friends.
"The bunch of flowers from Longhurst Group was a lovely surprise," Dennis added. "We didn't know anything about it. We came down in the lift and walked into the lounge and everyone was cheering; it was lovely.
"As we were presented with the flowers, people had tears running down their face. I suppose this kind of thing doesn't happen in a care home. When you move into a scheme like this, you don't expect to find love but we have.
"It feels like I've won the lottery, but even better. Money is nothing, happiness is everything."
Scheme Manager Kerrie Casey added: "Ever since Brenda moved in, Dennis hasn't stopped smiling; he's on cloud nine and goes around the place singing all the time now. Brenda is exactly the same; she's always beaming from ear to ear!
"It's lovely for me, as manager, to see them together. They're a lovely couple and an inspiration to us all. We can't congratulate them enough!"