Longhurst Group's Assistive Technology team finding innovative solutions for residents' needs
Support offered by Longhurst Group's Assistive Technology team has helped a resident suffering from hearing loss "carry on as normal".
Yvonne Savage, 37, moved from Mansfield to Rutland and needed a doorbell that could alert her when someone was at the door.
After a referral to the team, they were able to identify the best piece of technology for her needs and install a portable doorbell specially designed for hearing loss that comes with a loud amplified audible alarm and a bright, flashing strobe light.
The team also referred Yvonne to the Fire Service who carried out a free Home Safety Check and installed a vibrating pad and strobe connected to a smoke alarm for additional protection as Yvonne removes her hearing aids at night and would struggle to hear an audible alarm.  
The flashing strobe provides a visual warning during the day, while the vibrating pad can be placed under a pillow, which will wake Yvonne when the smoke alarm is activated.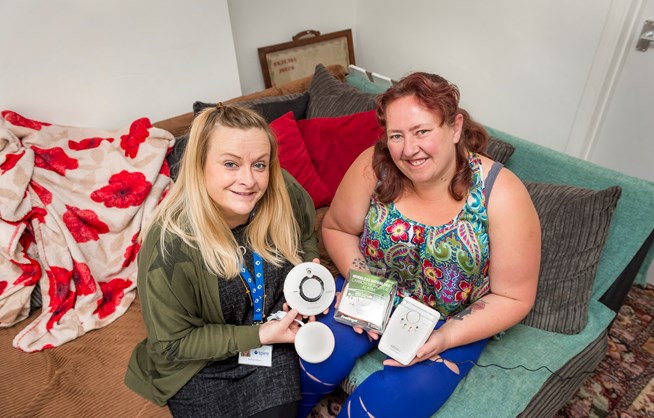 Yvonne said: "The equipment has made me feel safer at home and more reassured knowing that I will be alerted to a fire, or when visitors or deliveries arrive.
"I've been really happy with the service. I had a similar doorbell where I used to live but wasn't able to bring it with me.
"This equipment has enabled me to carry on as normal without having to worry about missing visitors or not hearing the fire alarm."
The Assistive Technology team is made up of three colleagues, who support both tenants and non-tenants across Rutland and Northamptonshire by installing the Lifeline service and other assistive technology to help improve people's lives.
Charlotte Holley, Senior Assistive Technology Officer, said: "We oversee the Lifeline service, which we deliver to residents – both tenants and non-tenants - across Rutland, Northamptonshire and surrounding areas.  We also deliver an Assistive Technology service on behalf of Rutland County Council.
"The team install Lifeline alarms in customers' homes. Lifeline is an emergency alarm service that provides help at a touch of a button, 24-hours a day.  It consists of a base unit connected to the customer's telephone line and a pendant alarm button that can be worn around the neck or wrist. 
"In the event of a fall or other emergency at home or in the garden, customers can automatically alert our 24 hour response centre by pressing the button on their pendant.  A trained operator will answer the call and arrange the appropriate help by contacting a nominated contact or the emergency services.
"We also work in partnership with Rutland County Council social services to provide Assistive Technology to residents in Rutland.  This involves receiving referrals and visiting residents in their home to discuss and provide customised solutions and equipment to help them live independently at home and improve their wellbeing."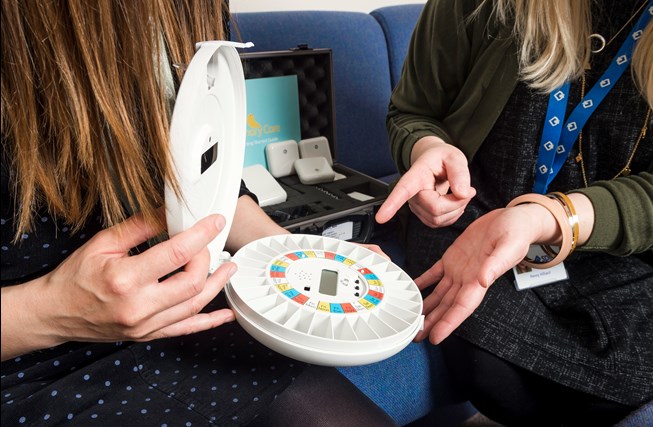 The team can make recommendations for a range of different gadgets, including items to improve safety in the home by detecting smoke, gas, carbon monoxide or flooding and alter the Lifeline monitoring centre.
Other popular items include fall detectors, door sensors, calendar clocks, epilepsy sensors and Amazon Dots.
Charlotte said the most rewarding part of the job is introducing customers to new technologies that she knows will help them.
"A simple calendar clock can provide enormous reassurance to customers with memory issues, who can find not knowing the date and time very disorientating," she said.
"Sometimes when I show a customer a piece of technology, their reaction can be heart-warming when they see that there is a solution to a problem they've been struggling with.
"Another rewarding aspect of my job is putting in place technology that can keep people in their own homes longer, by delaying or preventing a move into care or by getting them home from hospital faster.
"It also feels great, when customers express thanks for the quick response they received from the Lifeline service after an accident at home."
Penelope Hilliard, Assistive Technology Officer, said the help she recently gave to another customer was a personal highlight.
"I installed an Amazon Dot for a lady who lost her eyesight after a stroke," she said.
"The Amazon Dot enables her to add alarm reminders when she needs to take her medication or when she has an appointment. 
"She also uses it to make phone calls and create shopping lists for her carers; it's also useful for checking the date, time and weather.
"The device has given her more confidence and improved her quality of life after the stroke."
To find out more about the team, or see if they can help you, please call 0300 123 66 11 or email spirelifeline@longhurst-group.org.uk