Longhurst Group given permission for 56-home development in Huntingdon
Longhurst Group is set to deliver a new, fully-affordable 56-home development in Huntingdon, which will be built using innovative modern methods of construction.
We've been granted planning permission for the California Road development on a site which was previously part of the Regional College's Huntingdon campus.
As part of the regeneration, the homes will be built in factory conditions and delivered to site as complete wall panels, with insulation and external cladding, before being craned into place to create the homes.
The frames are being built using sustainably sourced timber and this method will create less waste, reduce the overall duration of the project and ensure the highest levels of quality assurance before the panels are even on-site.
The development will be made up of one, two and three bedroom homes available for shared ownership, rent to buy and social rent, with both car and cycle parking provision also being included.
Marcus Keys, Executive Director of Growth and Development, said he was delighted to see the development given planning permission.
He added: "Following a 15-month planning period, we're excited to get started on the regeneration of this brownfield site, which is made up of a former car park, unused land, an office and nursery – all of which were surplus to the education needs of the college.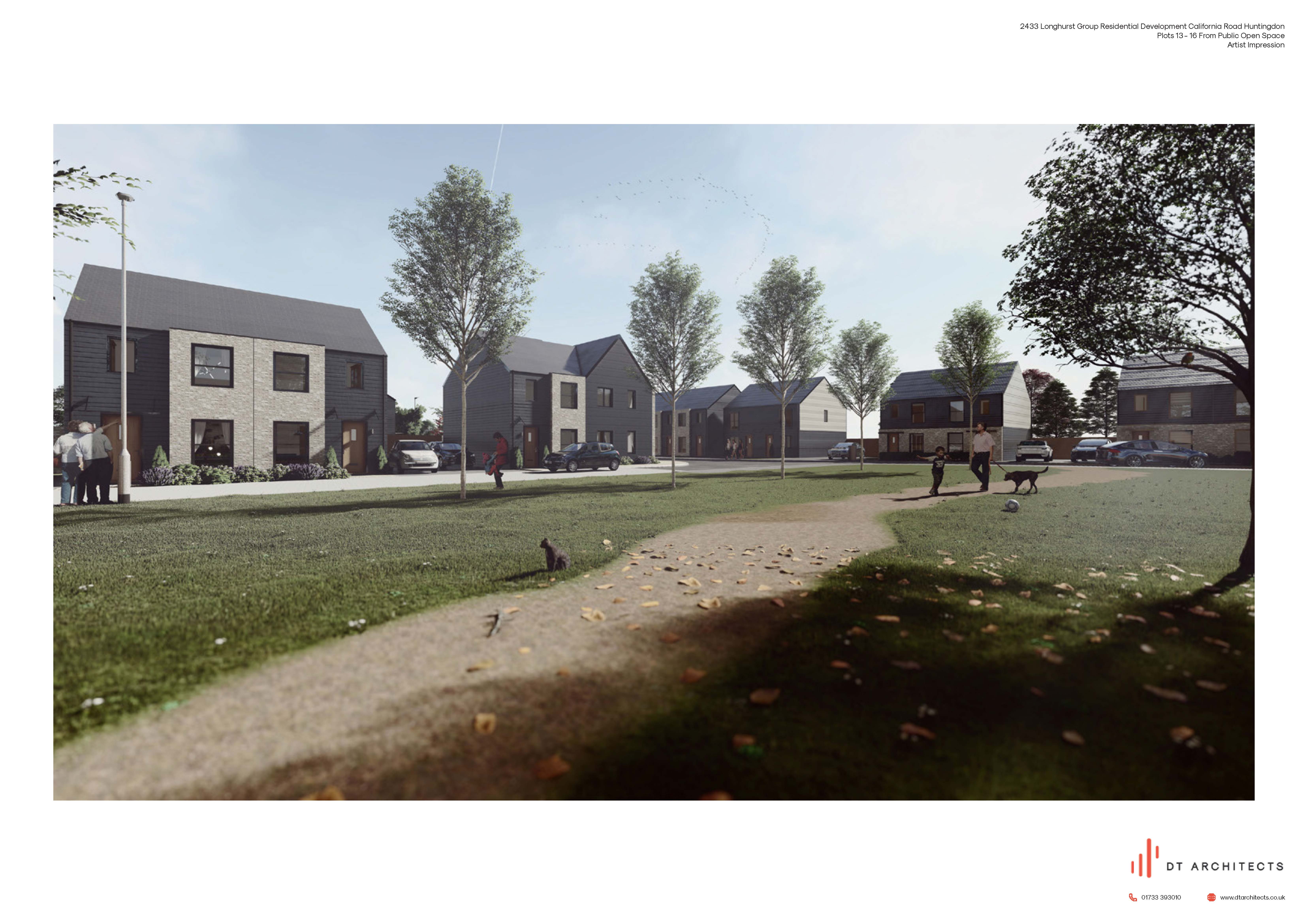 We're really looking forward to bringing this development to life, bringing much-needed new affordable housing provision to Huntingdon. The construction solution not only helps us assess innovative new methods of build, but also helps reduce both the carbon footprint during the construction process and longer-term life cycle of the home itself.
"This contemporary development will also look completely different from many affordable schemes seen up and down the country and is inspired by examples of long-lasting and architecturally acclaimed development in the nearby areas."
As well as using sustainably sourced timber, the development will incorporate a range of environmentally friendly features. These include hedgehog highways through the gardens of the development, using larger than standard windows to offset the demand for artificial lighting and permeable paving to contain ground water.
Burmor Construction will be the contractors on this development and Patrick Burke, Director, said: "Having been involved in the site at California Road for around four years from site-finding stage and on through the planning process, Burmor Construction is delighted to be continuing our work with Longhurst Group to deliver affordable housing for Huntingdon.
California Meadows will be part-funded through a grant from Homes England as part of our strategic partnership.
The scheme has been designed to utilise off-site construction technology, in line with Government strategy for new housing, and we're now very much looking forward to starting on site and delivering what'll be a high-quality scheme for Huntingdon."
Watch the two videos below from LoCal Homes – the company building the timber frames in factory conditions – to see how the process works.