Longhurst Group executive wins prestigious Lifetime Achievement award
A Longhurst Group executive has been recognised for his lifelong contribution to housing in the Midlands with a prestigious industry accolade.
Jonathan Driffill, Executive Director of Partnerships, was presented with the Lifetime Achievement award at Insider's Midlands Residential Property Awards 2019 in Birmingham.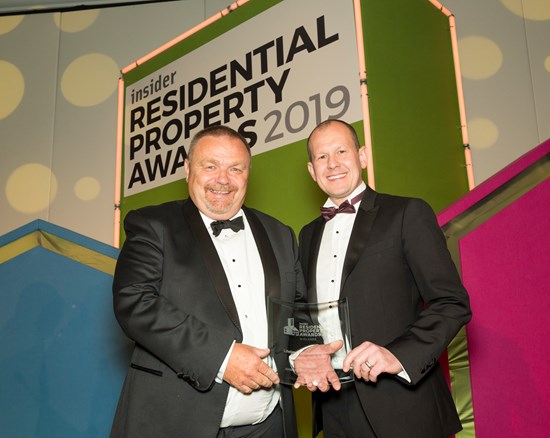 His career began working for various local authorities in the Midlands in planning, economic development and urban regeneration project teams.
Jonathan, who is set to retire later this year, was project manager of Walsall City Challenge's Urban Regeneration initiative during the 1990s which regenerated Walsall's town centre and the former Reedswood Power station adjacent to the Beechdale estate in the town, providing new homes, industrial development, jobs and leisure facilities.
He joined Friendship Care and Housing (FCH) – now part of Longhurst Group – in 1996 as Head of Community & Business Development Unit, before later becoming Corporate Director of Housing and Neighbourhoods, when he was responsible for managing Friendship's locality-based housing services, neighbourhood renewal and strategy and regeneration.
Speaking after picking up the award at the Hilton Birmingham Metropole, Jonathan said he was delighted to be retiring having left a legacy.
He said: "I am speechless for once. I'm chuffed to bits.
"I think being recognised by my peers makes it particularly special. Most of my career has been in the Midlands and it has been in housing and regeneration activity. Most of the time you enjoy it but you certainly don't expect to get this accolade.
"It is good to know that I am going out on a high!
"I'm going off to do other things, take it easy and enjoy life a little bit but it is also great to be going knowing I have left a legacy in the profession that I have chosen.
"I'm blown away."
Jonathan was appointed Managing Director of FCH in 2004 and under his tenure, the company pioneered the House to Home initiative with Birmingham City Council which, to date, has helped hundreds of customers to manage their tenancy and improve their confidence within a home setting.
He was also integral to the integration of FCH into Longhurst Group in 2006 and in November 2015, he was appointed to Longhurst Group's Executive Team as Executive Director of Care and Business Partnerships and then Executive Director of Partnerships in October 2017.
In his current role as Executive Director of Partnerships, Jonathan is responsible for the forward strategic planning for Longhurst Group and authors its annual business plans.
In doing so, he has helped shape the vision of an organisation which manages over 23,000 homes, provides care services throughout the Midlands and East of England and employs over 1,350 colleagues.