Longhurst Group digs deep to support Peterborough forest project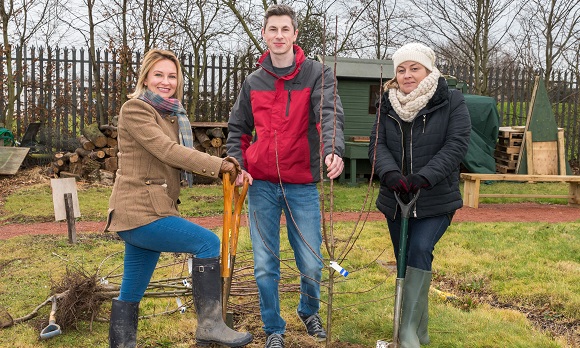 Longhurst Group is doing its bit for the environment in Peterborough after pledging to plant 300 trees in the city.
The Group – which contains Peterborough-based Axiom Housing Association – has made the donation as part of the Peterborough City Environment Trust's (PECT) Forest for Peterborough project, which aims to plant one tree for every person living in the city.
Longhurst Group manages almost 22,000 homes in more than 50 local authority areas across the Midlands and East of England, including Cambridgeshire, Huntingdonshire and Fenland.
The 300 trees which the Group will plant will offset the total amount of printed pages used across the organisation in 2016/17.
Guy Holwell, Environment, Health and Safety Officer at Longhurst Group said: "We think this is a fantastic step towards greening our 'environmental footprint' and helps put into context just how much paper we use as a Group.
"We recognise that paper use is one of our biggest impacts that we can actively help reduce, so we see this donation as a great way of giving back to the natural habitat and helping to reduce CO2 in the atmosphere."
Colleagues from Longhurst Group's Environmental, Health and Safety team planted the trees as part of the Investors in the Environment accreditation scheme's tree planting day, which saw more than 60 fruit and hedge trees planted in Peterborough's West Raven Community Garden.
"It was a very cold morning, but as we began digging, we all soon warmed up and really enjoyed the activity and hearing about the Forest for Peterborough project!" added Emma Basham, Longhurst Group's Environment, Health and Safety Manager.
"It was great seeing how a somewhat bare patch of land could be transformed in just a couple of hours with the help of the local community.
"In a few years' time the trees will start to bear fruit which can be used by the local community so it's a great project to have taken part in."
So far, the scheme's 3,142 volunteers have helped to plant 100,000 trees, with 1,200 tonnes of carbon being reduced.
Simon Balham, Forest for Peterborough Project Officer, added: "We are extremely grateful for Longhurst Group's involvement in the Forest for Peterborough project.
"Their generous donation not only enabled fruit trees to be bought for The West Raven Community Garden, which will be a real benefit to the local community, but they also helped us plant them.
"PECT is an ambitious project, but the help and support from Longhurst Group has moved us ever closer to reaching that goal."