Longhurst Group customer celebrates 100th birthday
The secret to a long and healthy life is simple according to one of our customers who recently celebrated her 100th birthday; never being idle!
Gwendoline Mason, who lives on our Remington Drive scheme in Cannock, Staffordshire, recently marked the milestone with a party, which was organised by Longhurst & Havelok (L&H) Homes and attended by her family and friends.
She was presented with a cake and bouquets of flowers as well as her commemorative card from The Queen, later enjoying a buffet lunch in Remington Drive's community room.
When asked about the secret to her long life, she said: "Never being idle, always being orderly, being tolerant and patient and learning by your mistakes!
"My drive and ambition is summed up by this quote; Good, better, best – never let it rest, 'Til your good is better – and your better, best!
"It has been lovely to be around my wonderful family and friends to celebrate."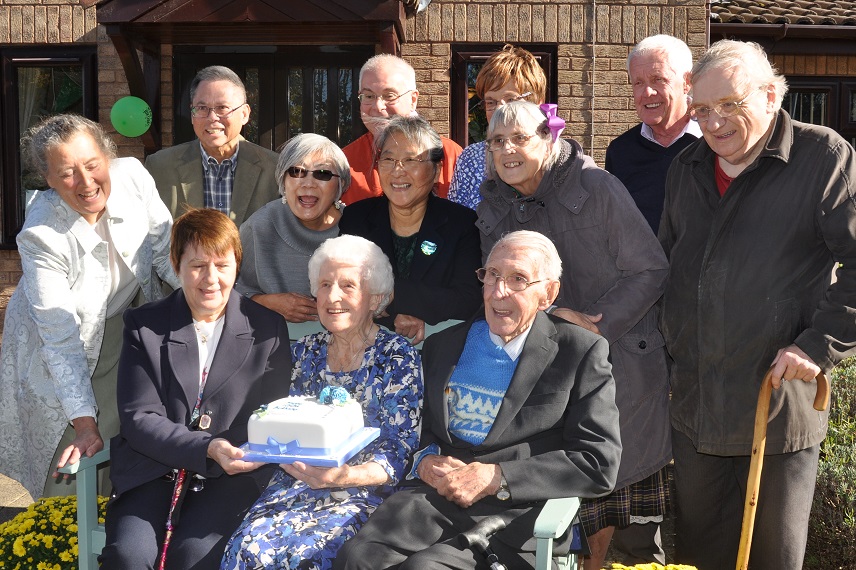 Born in High Wycombe in October 1918, Gwendoline was a gifted student and excelled in music. Her father was a painter and decorator for high-profile clients, including titled people and Maharajas, while her mother was a Court Dressmaker.
Speaking at her party, she recalled her childhood with fondness and remembered walks with her father around the grounds of Hughenden Manor, the home of Benjamin Disraeli.
After leaving school at the age of 14, she worked in various industries, including chair-making and engineering.
Through her involvement with the Church, she met and married her husband Joseph and they had a daughter, Pauline, in 1953.
Five years later, the family moved from Buckinghamshire to Hertfordshire as both Gwendoline and Joseph had been offered jobs. Alongside her work, Gwendoline took signing training and became a solo soprano.
Upon their retirement, the couple moved to Dorset, but when Joseph passed away, Gwendoline moved to Wales in 2000 to be closer to Joseph's sister.
She remained there for eight years, when she relocated to Cannock, to be with her daughter.
Among the invited guests at the party was Cannock Chase District Councillor, Paul Snape, who also passed on his well-wishes.
Speaking at the celebrations, he said: "It's absolutely wonderful to be here to celebrate your 100th birthday with you, Gwendoline.
"I'm 61, so I've got 39 years to go yet and you look better than I do now!"
Scheme manager Karen Cooper, added: "Gwendoline has lived a long and interesting life. 
"She lives independently, can play the piano note-perfectly and uses her computer regularly. She has a wealth of knowledge and is an inspiration to us all!"
(Above: Gwendoline pictured at her party with her family and friends. Main: Gwendoline with Cllr Paul Snape and Remington Drive scheme manager Karen Cooper).