"I've never experienced care and dedication like this."
A Grimsby man has been outside for the first time in two years thanks to an innovative scheme run by a local care home.
Staff at Cranwell Court, which specialises in providing care for older people living with dementia, have helped John Taylor (78) to learn how to sit in his wheelchair again so that he can spend more quality time with his family.
The residential home, which comprises 52 apartments, is run by Longhurst and Havelok (L&H) Homes and focusses on supporting residents to get out and be as active as possible.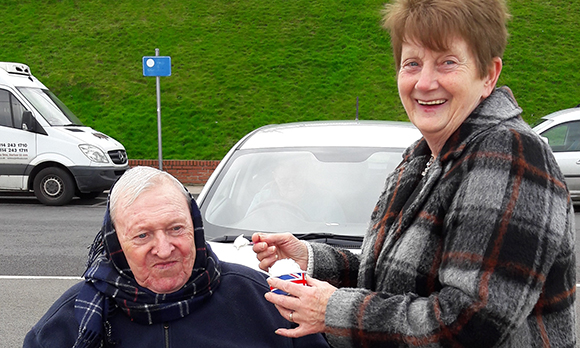 John moved into Cranwell Court a year ago and Sylv (74), his wife of 59 years, visits him every day.
In the last three months, Jacky Aisthorpe and Sally Barber, who work in the home, have been encouraging John to do various exercises and get used to sitting comfortably in his wheelchair again.
The father of six recently enjoyed a day out by the seaside, once again experiencing fresh air, the sun on his skin and a bracing coastal breeze.
"It is absolutely marvellous what Jacky and Sally have done," said John's wife, Sylv Taylor.
"I am so very grateful. Two years ago I never thought this day would come, because with dementia you just cannot guarantee behaviour and it's important for me not to upset John.
"The girls are marvellous, I've never experienced care and dedication like it before. They are amazing; the time they've spent with John enabling him to get to this stage is something I'll forever be grateful for."
Sylv and John first met in at a jazz club in Folkestone when John was in the Army. They lived together happily for decades until John's dementia became too hard to manage at home.
"It was roughly 11 years ago that I noticed he was showing early dementia signs," said Sylv.
"I looked after him for as long as I could at home but now I come to Cranwell Court most days, and just waffle away and talk about all sorts!
"I don't know if John realises he's going out, but it's nice to think he is. Every day I visit, I wear a different necklace that he brought for me. Often, he'll touch it as a I arrive, so I'm sure he knows it's one he got me."
Both Jacky and Sally hope that the success they've had with John will kick-start work with other residents, getting them to places they once visited or have always wanted to. Quite simply, they aren't prepared to give up on helping residents to get as much from life as they possibly can. 
"You don't know what is going to happen until you try," said Jacky.
"It's very important to me to get all residents out of the home at least once every couple of weeks.
"It's not just important for the resident, it's also important for their loved ones to spend time with them in a non-communal setting. For Svlv, it's about her being able to spend time with her husband as they once would.
"Once you start interacting with a dementia patient, you find out all sorts about their life when they were younger. There's another young lady here that we discovered had been a lover of horses in the past, so we worked with her to get her out riding again. Where there is a will, there's a way."
If you feel that you could make a difference to people's lives like Jacky and Sally, Cranwell Court is hosting a recruitment open day on Thursday, 6 April.
The regional leader in dementia care services is looking for people to fill a number of roles, including senior support worker, activities facilitator, support worker and night support worker.
The event is taking place at Cranwell Court on Cambridge Road in Grimsby and will run from 11am until 2pm.