Helping to write a new chapter for Beechdale's book lovers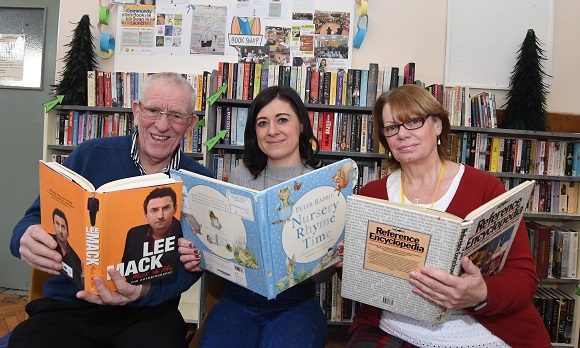 Colleagues from Longhurst Group have helped to keep a Walsall community reading following the closure of its library.
When the Beechdale estate's library was forced to close due to council funding cuts last year, colleagues from Friendship Care and Housing (FCH), which manages more than 1,200 properties and has over 1,600 customers on the estate, stepped in to help.
The housing provider's Community Champion, Jemma Betts, alongside other members of staff and volunteers from the local church, created The Community Book Swap, ensuring the estate's bookworms can continue to enjoy their favourite page-turners.
The Book Swap is based at the St Chad's Church Hall on Edison Road and open to the community every Saturday lunchtime between 1 and 2pm.
For a donation of just £1, visitors can borrow a maximum of three books, swapping them for different titles once they've finished reading.
Explaining how the idea came about, Jemma – herself a resident of the estate – said: "I know of a number of isolated people on the estate who won't go out of Beechdale and so when our library was closed, I was concerned for them as they no longer had access to books.
"I'm a mum of two young girls myself and I was concerned for children like them, who loved visiting the library and enjoying the stories that were available from there.
"I spoke to people at the Church, who agreed that something needed to be done and they very kindly gave me the space needed within the Church Hall to create the Book Swap.
"Then it was a case collecting up all of the books that had been donated to the project and getting it started. We've had plenty of books donated by our local residents and partners and have a great range of stories for both children and adults.
"The reaction that we've had so far from the community is really positive, which is brilliant."
Jemma hopes the Book Swap will become a hub for the community, with plans to open it to residents during weekdays and host special events featuring famous characters from the books on offer.
Resident Brenda Phillips, said: "I think the Community Book Swap will prove to be more useful than the library that closed, because lots of senior citizens from Beechdale use the Church Hall, for many reasons.
"Previously, I think many of them couldn't get to the library just to swap books, so I think it is a brilliant idea and I'm pleased it is now available for everyone – even for those who didn't use the library before."
If you would like to donate books to the Community Book Swap, please contact Jemma on 0300 123 1745 or email jemma.betts@longhurst-group.org.uk.