Executive Director shortlisted for lifetime achievement award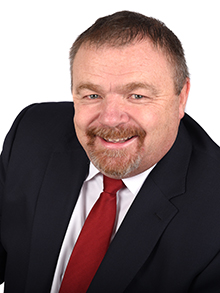 Longhurst Group's Jonathan Driffill, who has dedicated his career to improving the lives of our customers, has been nominated for a prestigious national award.
Jonathan, who is Executive Director of Partnerships, has been shortlisted for the Lifetime Achievement in Housing award at the Housing Heroes Awards 2018, which takes place in Manchester in June.
He is among six other nominees vying for the award at the ceremony, organised by the Chartered Institute of Housing and Inside Housing magazine.
 "It's a huge honour to have been shortlisted for the award and I'm very proud – it's very humbling," said Jonathan, who is retiring next year.
"I have to pay tribute to the brilliant colleagues who I've worked with throughout my career and thank them for their support. I look back with pride on what we've achieved by working together as one team.
"I'm very much looking forward to the awards ceremony; just to have been nominated for the award alongside some of the names on the shortlist is fantastic."
Chief Executive of Longhurst Group, Julie Doyle added: "Our Group vision is centred around improving lives and throughout his distinguished career in housing, Jonathan has worked hard to make that philosophy a reality. 
"His contacts in the sector are unrivalled and his significant involvement with different external groups and committees underlines his commitment to supporting the communities that need it the most.
"Whether helping customers or colleagues, Jonathan's vast knowledge and experience, allied with his heartfelt compassion, has enabled him to make a positive impact on the lives of thousands of people.
"I'd like to congratulate Jonathan on being shortlisted for this fantastic award and wish him all the very best of luck."
Jonathan began his career working for various local authorities across the Midlands in planning, economic development and urban regeneration teams.
He was project manager of Walsall City Challenge's Urban Regeneration initiative during the 1990's which transformed the town centre and the former Reedswood Power station adjacent to the Beechdale estate in the town, proving new homes, industrial development, jobs and leisure facilities.
After joining Friendship Care and Housing (FCH) – which manages over 1,500 properties in Birmingham alone – in 1996, Jonathan pioneered the House2Home initiative with the City Council, which has supported hundreds of customers and successfully led on a project that transformed some of the city's low-demand bedsit accommodation into large, modern family properties.
He was integral to the 2006 integration of FCH into Longhurst Group before being appointed to the Group's Executive Team in 2015.
Jonathan is also currently Chair of Birmingham Voluntary Service Council - one of the largest voluntary sector support organisations in the UK – and has been a Birmingham Social Housing Partnership (BSHP) representative since the late 90's, acting as chair twice.
He also represents BSHP on the Birmingham Health and Wellbeing board and is currently chair of BRAP, which aims to tackle racial discrimination, disadvantage and social exclusion.