Care professional shortlisted for national award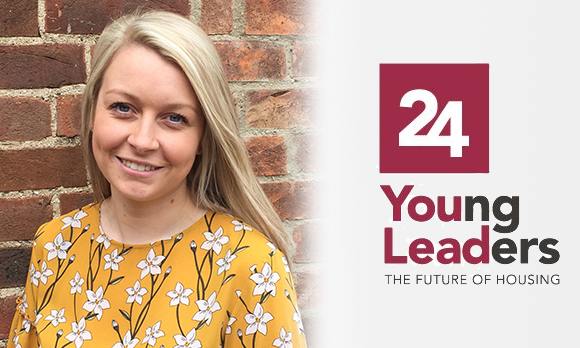 A LONGHURST Group colleague has been shortlisted for a prestigious national award that recognises rising stars in the housing and care sector.

Helen Donald, 26, is the manager of Wisbech Foyer, which is run by Axiom Housing Association – part of Longhurst Group – and provides accommodation for up to 17 young people aged between 16 and 25.

Wisbech Foyer's specialist staff help residents develop independent living skills, supporting them with individual training needs, accessing education and employment.

Each resident has their own room, with access to shared facilities, including a communal lounge, kitchen and laundry room. Wisbech also has two move-on flats for residents who are ready to take the next step towards independence.

Despite having only worked for Longhurst Group for little under a year, Helen has completely turned the Wisbech Foyer around, helping 15 out of 17 of her residents into education, training or employment, ensuring all residents are in credit with their rent accounts and securing over £6,000 of funding for sports activities at the Foyer.

It is this impressive performance which has seen her shortlisted for the 2018 Young Leaders Award which is run by 24housing magazine.

The awards celebrate the brightest young talents in the housing sector and identify those with the talent and potential to become future leaders.

Helen is among 19 other housing professionals from across the UK who are vying for the award, which is open to a public vote that will narrow the top 20 down candidates to a top 10.

A further vote will decide who makes the final three and go on to speak in front of an expert panel at the National Housing Federation Headquarters in London later this year, where the winner will be decided. 

"I was really surprised to hear that I had been nominated for the award," Helen said.

"I am absolutely delighted to receive that kind of recognition from Longhurst Group.

"I am very proud as the team and I have worked really hard over the past 10 months to make some real improvements to the service and the lives of the young people living at the Foyer.

"I'd like to thank my manager for nominating me, my team at Wisbech for supporting me on a daily basis and for always being on hand to offer help or advice.

"I hope to have a long career within Longhurst Group and see this as a great opportunity for me to continue to develop my leadership skills."

Longhurst Group's Executive Director Care & Business Partnerships, Louise Platt, added: "We're delighted to hear that Helen has been shortlisted for this fantastic award.

"It is a ringing endorsement of the fantastic achievements that she has already realised in her short time as service manager at Wisbech Foyer.

"The Foyer improves the lives of the young people who live there, ensuring they have all the tools and support they need to take the next step towards independence.
"We are very proud of the service and Helen's superb leadership of it. On behalf of everyone at Longhurst Group, I wish her the very best of luck."

To vote for Helen, visit https://www.surveymonkey.co.uk/r/Q7B2PNC.