Digital skills
Whether it's to access services online, stay connected or improve ICT skills, we can help.
Please click on the headings below for more information. 
If you need more information, please get in touch using our online form below.
---
ICT for beginners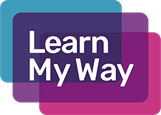 ICT for beginners
As a registered Digital Inclusion Hub, we have access to over 30 free courses through Learn My Way.
Learn My Way offers a variety of free online courses for beginners to work through, from basic courses like using a keyboard and using email to more diverse courses like mobile banking and video calling. Anyone can sign up. 
You can take as many or as few as you like and complete them in any order. Once registered, you can save your progress for next time.
Registration is quick and easy - it just requires an email address and our centre number, which is 2620007. 
Finding the best deal
The Making Money Count website has free, impartial advice on getting online affordably and finding the best mobile or broadband deal. 
Here are some handy hints to keep in mind when going online:
Check coverage in your area– there's no point getting a great data offer if you can't get a signal. You can check with Ofcom here.


Look for second-hand devices– most major stores will sell refurbished devices alongside brand new items, so you can save yourself a lot of money while doing your bit for the environment.


Shop around– use a price comparison website to compare companies for the best deal. Even if you're currently tied in to a contract, get in touch with your provider as they may still be able to offer you a better deal.


What do you need it for?– consider what you will be doing online, especially if your data is capped. Will you be browsing the internet, chatting to people on WhatsApp or watching films?  Confused.com have a simple mobile data checker that shows you how far data can go.


Stay safe– there are many public places where you can get online for free using wifi, such as cafes, shopping centres and libraries. Even if they have a secure network that needs registration, or they require a log-in, you should always exercise extreme caution when using these services and never send sensitive personal or financial data.
---
Get in touch