Career progression in Care and Support
Fay Hirel is Longhurst Group's Director of Independent Living and Support Services. She's worked her way up through different roles within the health and social care sector and has had a lot of experience working in different settings. She's a real-life example of how someone can develop a career and progress within Care and Support.
---
Fay's background
When she was younger, Fay had always wanted to be a police officer. Fortunately, after landing an admin job in a local hostel in Peterborough, she realised how much she enjoyed working in the care and support sector.
Fay has since worked her way up through the ranks working in different care and support settings, moving into management roles before eventually finding herself in her current position as a Director.
She says her career highlight to date was meeting Prince William to talk to him about the work our Care and Support Teams had been doing to support rough sleepers, specifically during the pandemic. Fay also showed Prince William the range of work that the teams do on an ongoing basis.
Fay also said that some of her proudest moments are when she bumps into somebody who's been supported through a service and discovers how they've turned their lives around for the better.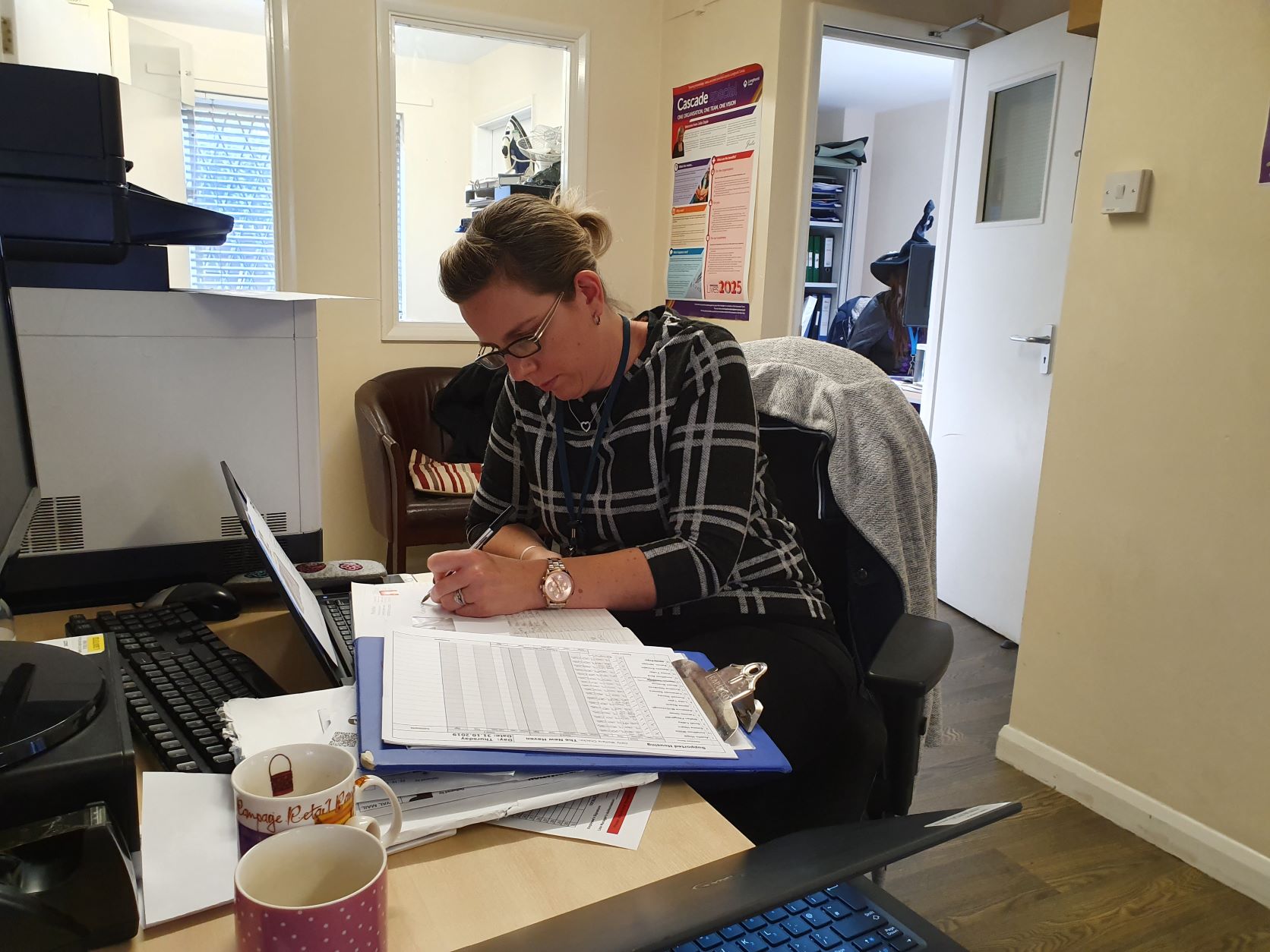 ---
Routes into health and social care
There are many ways to get into health and social care jobs. For some people, entering the sector via the education route is right for them, while for others, work experience, apprenticeships and applying for jobs directly works for them.
Health and social care qualifications
Gaining a qualification is the more traditional route into many health and social care roles, this is still a very popular way to securing your first job in the sector.  You can do this in several ways, including:
Different courses and universities have different requirements, so make sure you do your research. There's lots of advice and information available from universities and on the internet.
Work experience
Volunteering or securing work experience placements at a care and support scheme is one of the easiest ways of discovering how care and support services are delivered and the opportunities available within the sector.
If this is something that appeals to you, do some research and consider contacting service providers to see what opportunities there are for work experience placements.
Apprenticeships 
Apprenticeships are a great way of getting your foot in the door and learning on the job. You can now complete apprenticeships in many of the job roles you can perform in care and support. These allow you to earn money while you learn and can be the perfect way to kickstart your journey in care and support.
Apply for jobs
Depending on the particular role you're applying for, you don't always need qualifications or previous experience on the sector.
The most important thing is having the right values and attitude to work with and support people who need care and support services.
Keep an eye out for job vacancies and don't be afraid to apply. Once you've got your first job, the opportunities are endless.
Check out our latest Care and Support vacancies
---
Career progression opportunities in Care and Support
Once you're working in the Care and Support sector, there are lots of opportunities for you to progress and work your way up if this is something that interests you.
You might discover that you really enjoy working in a particular area or scheme, or you might have ambitions to work in management roles.
Fay's own career progression is proof of these opportunities.
She said: "I started in a full-time admin role work in a hostel, before I was then asked to apply for a Support Worker position in a hostel in Peterborough for Young Offenders.
"After working there for a few years, I'd gained the knowledge and experience  to enable me to apply for the post of Accommodation Advice Worker for the Probation Service. This role was working with high risk and prolific offenders, supporting them to find suitable accommodation.
"I stayed with the Probation Service for several years, moving away from the Accommodation Advice Worker role and becoming an Offender Manager.
"I'd always referred people to Fair View Court, a hostel in Peterborough that had been built by Axiom Housing (now Longhurst Group). It was a great place, but I could see it had much more potential, so when the Manager post came up, I took the plunge and applied.
"I had no direct management experience, but I put my heart and soul into preparing for my interview and presentation and I was over the moon to be offered the post.
"Since then, I've managed most of our hostels at one stage or another, set up various new services and contracts with teams and gained such valuable experience in this field."
Career progression is there if you want it. I'm a good example of that.
---
How can I develop my career in social care?
Having ambition is never a bad thing. Always thinking about where you want to go and what you want to achieve should be applauded.
Through her own experience, Fay says ambition can take you a very long way. But there are other things you can do you help you progress, including:
Formal training – some roles may require you to be qualified at a certain level. You can gain further qualifications to become a Leader in Adult Care, helping you to lead a care team.
Broadening your skillset - get involved in as many different projects and committees as you can.
Internal opportunities – There may be opportunities within your current business to grow by joining another team or taking a secondment.
Fay added: "Career progression is there if you want it. I'm a good example of that.
"I'd always encourage anyone to talk to their manager about what they can do to support them in their development."
---
Top tips and advice for progressing in Care and Support
Fay has one top piece of advice that she'd share to those wanting to work in Care and Support and progress in the sector.
She said: "Be prepared to work hard and to gain as much experience and knowledge as you can, whether that's through paid or voluntary work, but also be yourself.
"Your manager and team can teach you the procedures and processes, but you can't be taught how to be caring and supportive, that comes from you.
"It can be hard work and long hours, but it's rewarding. No two days will ever be the same and you get to meet the most interesting people – whether that's customers or colleagues.
"There are opportunities to progress if you want to do that, but there are many, many rewarding roles at all levels and you'll be remembered for the difference you make to someone, even if you don't realise it yourself."
---