Longhurst Group welcomes new board members
FOLLOWING the recent merger with Axiom Housing Association, Longhurst Group is pleased to welcome seven new members into its various Boards and Committees.
This includes two new external Homes Board members; Mona Sachdeva and Paul Smith, and five Axiom Board members who have assimilated into the Group governance structure following a recruitment exercise.
As a result, following Axiom's integration into the Group, all Boards and Committees have welcomed new additions.
Group Board
Hilary Lindsay – The former Chair of Axiom's Board, Hilary joined the organisation in 2009. A chartered accountant and academic co-ordinator, doctoral supervisor and researcher with the Open University, Hilary is also President of the ICAEW and past president of AAT (the professional body for accounting technicians).
Homes Board
Mona Sachdeva – A qualified solicitor and Member of the Law Society of England and Wales, Mona joined the Board after taking a well-earned break from a varied and distinguished 26-year legal career. As a passionate advocate of openness, transparency and customer care, Mona joins an organisation with values that echo her own.
Paul Smith – Paul has over 25 years of experience in the housing sector and is currently the director of Foundations. He previously enjoyed a 25-year career within local government and joins Longhurst Group after being Board member and non-executive director at the Community Housing Group.
Angie Morris – Angie joined the Axiom Board in May 2016. She has provided consultancy services to public sector organisations and charities and has extensive experience of working in the NHS and in Local Authorities. Angie is also a trustee of a Peterborough-based charity supporting adults with learning disabilities.
Andrew Bish – A member of the Axiom Board since May 2016, Andrew is a freelance management consultant specialising in public services. He has a Masters degree in Transformational Government and has enjoyed a successful career in local government. He was part of the Joint Programme Board which progressed the merger with Longhurst Group.
Libra / Finance and Treasury
Alan Lewin – The former Chief Executive of Axiom, Alan has been Executive Director of their Board since September 2016. He began his housing career in the 1980s and was previously Regional Director of Sanctuary Housing Group for the East of England. A Fellow of the Chartered Institute of Housing and the Royal Society of Arts, Alan is also a member of the National Housing Federation's Housing and Health Group and the East of England steering Group.
Keystone / Development
Alan Lewin
Remuneration Committee / Nominations Committee
Hilary Lindsay
Integration Committee
Patricia Dearnaley – Patricia joined the Axiom Board in September 2016 and has worked in housing for over 30 years. She is a Fellow of the Chartered Institute of Housing and the Royal Society for Art, and holds a Masters degree in Business Administration.
Andrew Bish
Care and Support Committee
Patricia Dearnaley and Angie Morris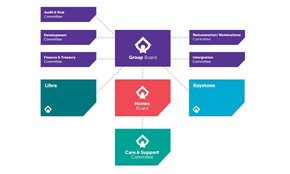 Click on the image above to enlarge.
For more information about all of Longhurst Group's Board and Committee members, click here.