Using your hygrometer
What is a hygrometer?
A hygrometer measures humidity. It can be a helpful way of seeing when there's too much moisture in the air inside your home. Too much moisture can lead to condensation, which can lead to mould forming – although it's not always the underlying cause.
---
How your hygrometer works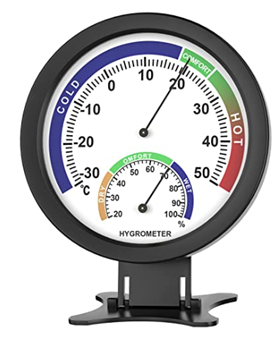 On your hygrometer, the small dial shows the amount of moisture in the air – measured as relative humidity (RH).
Try to keep this dial in the green 'comfort' zone. Blue 'wet' means there's too much moisture in the air. It'll condense as water on cold surfaces like walls and windows and could lead to mould.
The larger dial shows temperature. Aim for the green 'comfort' zone. Lower air temperatures will hold less moisture meaning more water is released onto walls and windows.
  Keep both the humidity and temperature dials in the green zones to prevent condensation forming.
Top tips
Try these top tips:
  Move the hygrometer to different rooms from time-to-time.
  Bathrooms and kitchens are great places to monitor first.
  See what effect ventilating each room makes to the humidity levels – if you have an extractor fan or window trickle vents, use these.
  More tips on reducing condensation in your home.
---
What should I do if I have damp or mould in my home?
If damp or mould is a problem in your home, please call us on 0800 111 4013. Our Repairs Contact Centre will be happy to help you.
---
Updated: 23 November 2023
Review date: 22 January 2024
Useful links