Clean and green inspectors January 2022 update
Current inspectors
We currently have 12 trained Clean and Green Inspectors.
Inspectors by region:
| | |
| --- | --- |
| Region | No. of inspectors |
| East | 4 |
| South | 2 |
| West | 6 |
A new customer in the South region has also contacted and asked for training and we're arranging a date for this to be completed.
The map below shows the areas where  inspections were completed in December.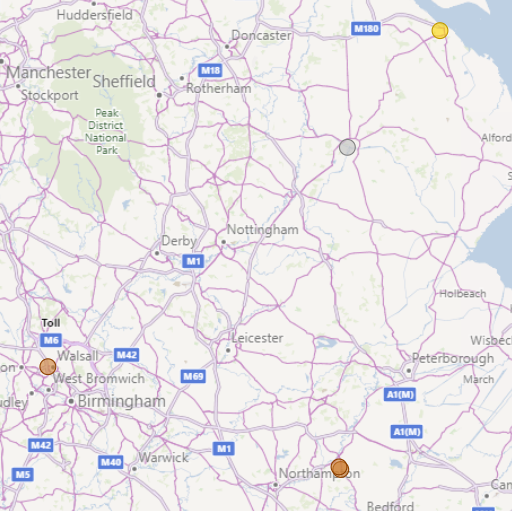 ---
Recruitment for new inspectors
We've now received a list of leasehold schemes where there is no scheme manager. We will begin to send recruitment emails to try and encourage leasehold customers to join the project.
A recruitment advert will also go out in February in our customer engagement newsletter.
---
Grounds maintenance
In December all areas of grounds maintenance scored gold and silver in the East region. The customer who scored silver advised this was due to small amounts of litter and fallen leaves.
In the South region we received scores of bronze and silver. There are neighbourhood issues on this scheme as well as issues with the grounds maintenance. The Service Contracts Officer and Housing Officer have attended with the contractors and agreed works to bring the area up to standard, this work will be completed over the winter months. I will request an update on this from the team during our January meeting and update the customer.
A newly trained customer has completed an inspection in the west region in December. Again these scores were bronze and silver. These will be discussed with the Service Contracts team during our January meeting as areas such as shops have been mentioned and I need to confirm with the team if these areas are part of our contractor's responsibility.
---
Communal cleaning
We only received cleaning inspections in the East region in December and scores of bronze, silver and gold were given.
Sanderson House scored a bronze early on in December as the flooring under the stairs hadn't been cleaned. This was raised with the team and later on in December this had improved to a silver. All other areas were scored as gold.
At St Faiths Court, the customer scored bronze early on in the month as the contractor hadn't attended. I spoke to the Service Contracts Officer who was aware of the issues. The cleaning contractor had recently had some staff changes, this has since been resolved and the contractors attended. Later on in December the customer scored a gold.
Further information
The Customer Engagement Team and the Service Contracts Team will discuss how our responses to poor feedback could be improved. The meetings will be more to allow us to feedback to inspectors as soon as possible.
There will be a big push on recruitment early this year so that we can have new inspectors trained up ready to start logging inspections in time for the spring and summer months.
We're piloting a gardening competition in the hope that if it is successful it could be rolled out across our regions to promote looking after our communities.
We have a number of inspectors who aren't completing inspections at the moment and will be making contact with them to check if this is because there is a reduced service at the moment and if everything is ok in their area.