Supported accommodation for people with a physical disability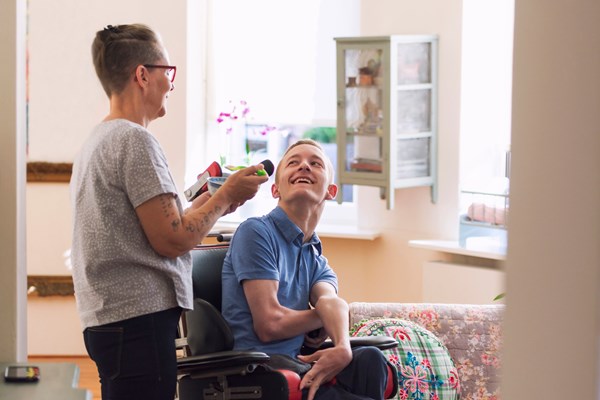 This flexible support service can help you if you have a physical disability offering a place to live within supported accommodation.
The support we provide is unique to you and is tailored to your particular needs, aiming to help you build on your strengths and engage with community-based activities. It's extremely important to us that we help you achieve your personal goals and successfully maintain your tenancy and chosen way of life.
We aim to help you become more independent, offering new experiences and opportunities and improving your general well-being and quality of life. Our support is reliable and flexible, available seven days a week, 365 days a year.
With the use of assistive technologies to support your independence wherever appropriate, we look to minimise reliance on care and support services. Instead, there is a specific focus on really getting to know you and to understanding how you wish to be supported, so we can design an outcome-focused care and support plan specifically for you.
Support is available in all aspects of daily living, including:
Maximising income.
Accessing independent advocacy.
Shopping.
Budgeting.
Household chores.
Personal care.
Promoting effective non-verbal communication including digital systems.
Management of medication.
Support with any health conditions such as diabetes, epilepsy, anxiety, and psychosis.
Being safe and managing risk including the use of assistive technology.
Accessing education, training, voluntary or paid work.
How can I access this service?
For more information, please call 0300 123 1745.