Bluebell Place Brochure
 Contents
---
Bluebell Place is our stunning collection of 2, 3 and 4 bedroom homes in Eye Green. We'll be providing 67 homes in total, which will be available for Shared Ownership, outright sale and Rent to Buy.
All of our homes come complete with contemporary fitted kitchens as well as stylish modern flooring in the kitchen and bathrooms. They all boast a downstairs cloakroom, allocated parking and freshly-turfed gardens.
From 8 July 2020 to 31 March 2021, you will not have to pay any Stamp Duty on your main home. That means The Holly at Bluebell Place is now STAMP DUTY FREE!
Don't miss out, appointments are being booked fast at our sales office. Now open Thursday, Saturday and Monday.
    Area information
A few miles north of the cathedral city of Peterborough lies the desirable village of Eye Green. This quiet, rural spot brings its residents the best of modern convenience and countryside living, set in close proximity to an abundance of local amenities as well as a beautiful nature reserve.
In catchment for good schools and nurseries, and within easy reach of a refreshing mix of eateries and shops, Eye Green is the perfect location for families and professionals
Regular bus services provide easy access to the City

Walking distance to shops, cafés, restaurants, a library and a doctor's surgery.
Did you know?
Bluebell Place is named after the natural foliage found in Eye Green, the Bluebells. Bluebells blossom in the late spring and are the symbol of humility and everlasting love.
Find out more
Bluebell Place is located near the Eye Green Local Nature Reserve, which was formally the site of the Northam Brickworks. In 1996, it was officially declared a Local Nature Reserve.
The 25 acre site is home to many land and water wildlife including swans and geese.
Site Layout
Address: Bluebell Place, Guilsborough Road, Eye Green, Peterborough PE6 7QQ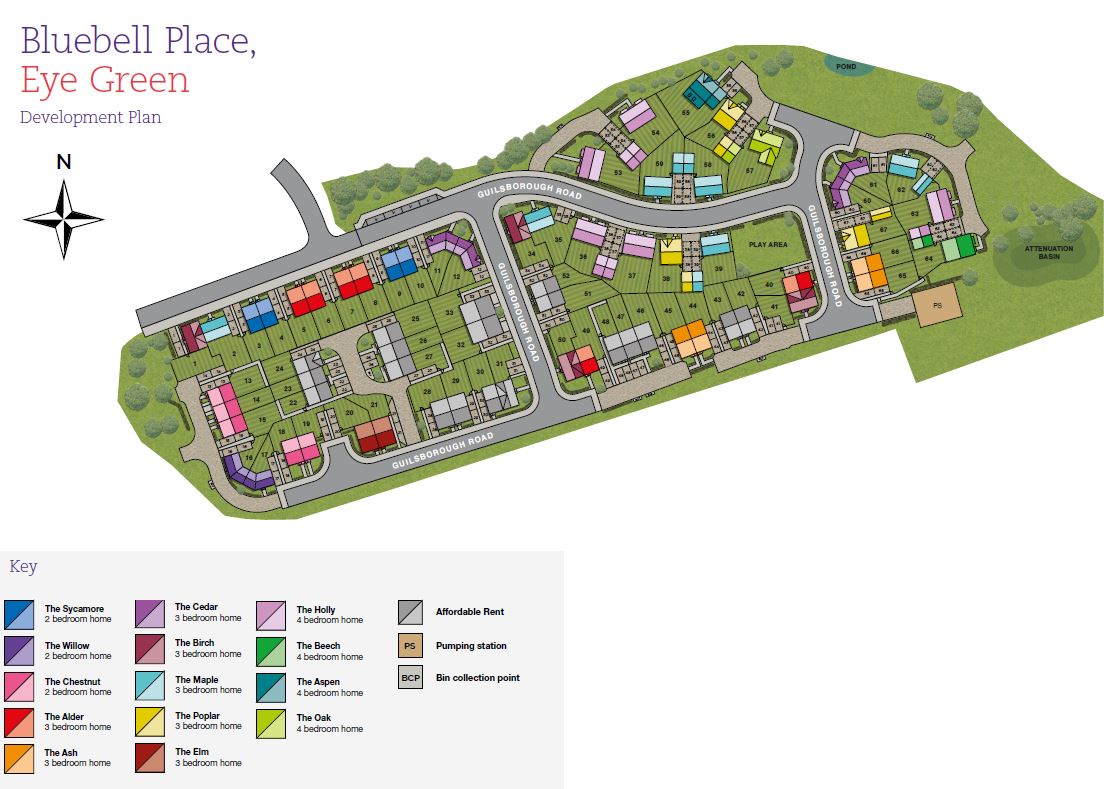 ---
House types
There are Outright Sales, Shared Ownership and Rent to Buy homes available at Bluebell Place, featuring a mix of two and three bedroom homes.
Outright Sale
Shared Ownership
All of our Shared Ownership properties have now sold out.
We do have other Shared Ownership homes nearby at Kingfisher View and Kingsgate Mews
Shared Ownership is a great way for you to get a foot on the property ladder if you can't afford to buy a home outright on the open market.
Essentially, it means you'll be buying a share of your home – usually between 25 percent and 75 percent - and paying an affordable rent on the remainder.
It can take away the pressure of having to save for a high deposit, or having to make large mortgage repayments.
Find out more about Shared Ownership on our dedicated web page.
---
  Welcome to Longhurst Group
We're one of the leading housing developers in the Midlands and East of England, delivering fantastic homes in locations where people want to live.
We put our customers first and our range of home ownership options, mean that whatever your individual circumstances, you can find your perfect place to call home.
Our promise to you
Before you move:
Our friendly Sales Team will support and guide you through every step of the buying process.
We'll confirm with you the appearance and location of your chosen new home – and provide all the relevant additional information – before you decide to make a reservation.
Our Team will provide you with a reservation agreement, which will outline the key terms of your purchase, including the reservation period, purchase price and other important information.
We'll confirm the specification and layout of your new home and run through all the pre-contractual information you need to make an informed decision.
You'll be given details for your main point of contact who'll be on hand to answer any questions or provide the information you need during your reservation and after you move into your new home.
We'll keep you informed of the progress of your purchase, with your dedicated point of contact always on hand to answer any questions you may have.
After you move in
We'll be there on the day you move in, with a dedicated Sales Advisor welcoming you to your new home.
You'll be given a detailed homecare booklet to help you settle in.
After you've moved in, we'll also check in with courtesy calls or visits to ensure that you're happy.
You'll be given details of your National House-Building Council (NHBC) – or similar industry-regulated scheme – 10-year insurance scheme, which covers the fabric and structural integrity of your new home.
We value your feedback, so if you have any comments that you'd like to share with us to help us further improve our service, please contact 0345 601 9095 or email newhomessales@longhurst-group.org.uk.