All Angels Park, Caldecote - Coming Soon
All Angels Park Key Information
Welcome to All Angels Park in Caldecote.
We're in the early stages at All Angels Park and glad you've chosen to find out more. Please fill in the form below to be the first  for any information regarding this exciting new residential development.
Longhurst Group are proud to offer a fantastic mix of two and three bedroom homes on Shared Ownership.
Situated in the sought-after village of Caldecote, the All Angels Park development – built by Linden Homes – is the perfect place to kick back and relax.
We're pleased to announce that we will have four three-bedroom properties and five two-bedroom properties, which will be available from Autumn 2021.
The picturesque Cambridgeshire village of Caldecote boasts excellent transport links to the A428 leading to the M11, it is also only 8 miles away from Cambridge city centre.
Within the village, there is the Caldecote Primary School and Preschool. Caldecote has a village hall and social club, some great local amenities and a village pub. If you prefer to take part in sports and socialise, Caldecote offers a recreation ground with football and cricket pitches, tennis courts, a sports and social pavilion along with some great gym's nearby in Cambridge.
The Properties will be available on a Shared Ownership basis. Contact us today for more information and to register your interest in these homes, which are due to be available from Summer 2021. 
---
All Angels Park Ownership Options
 Shared Ownership

Availability: 17

2 & 3 bed homes
Development Plan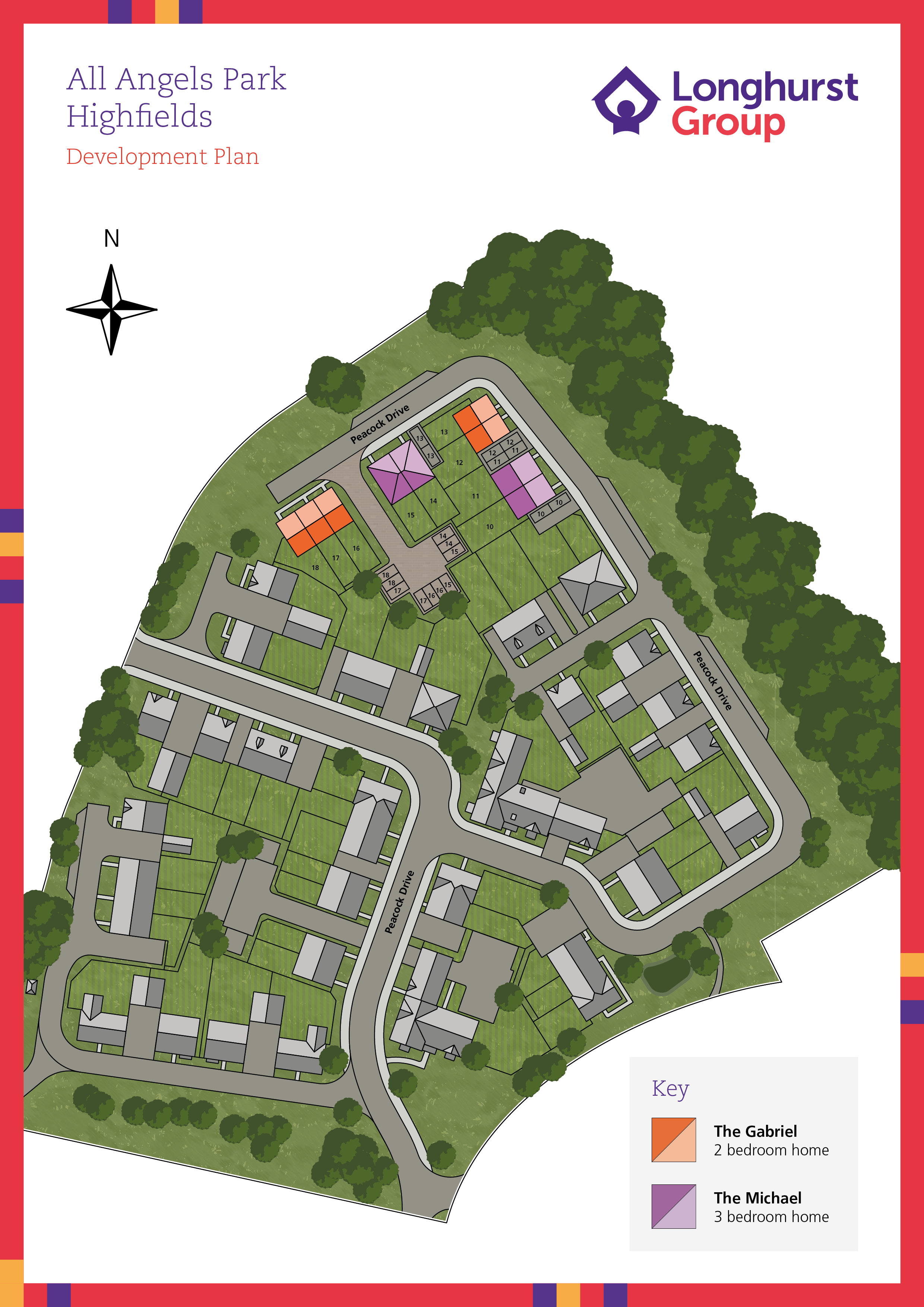 Property types
Shared Ownership
The Gabriel
🛏️ 2 bedroom homes
🏡 Available Autumn 2021
REGISTER YOUR INTEREST TODAY
The Michael
🛏️ 3 bedroom homes
🏡 Available Autumn 2021
REGISTER YOUR INTEREST TODAY
Latest News
---
Why buy from Longhurst Group
Our commitment to you
Before you move
Our friendly sales team will provide you with support and guidance throughout the home buying process
At pre-reservation stage you will be shown details of the appearance and location of your chosen new home, together with all relevant surrounding information
The reservation agreement will set out the key terms of your home purchase, including the reservation period, purchase price and other important information
We will go through the specification and layout of your home and details of any pre-contractual information to enable you to make an informed decision
We will inform you of your main point of contact who will assist you with information during your reservation and after you have moved into your new home
We will regularly communicate with you to keep you informed of the progress of your new home and your dedicated point of contact will respond to any queries you may have
We want to make your move as enjoyable as possible and our welcoming and knowledgeable staff will be with you every step of the way to provide a service that is tailored to you and your needs.
When/after you move in
On the day you move a dedicated sales advisor will welcome you to your new home
A detailed homecare booklet will be provided to help you settle in
Shortly after you have moved in, we will make courtesy calls/visits to ensure you are happy with your new surroundings
Your new home is covered by an NHBC or similar industry regulated 10-year insurance scheme covering the fabric and structural integrity of your new home.
Improving Lives 2025
Our purpose as an organisation is to provide great homes and services and deliver an integrated solution to the housing and social care crises.
Our Improving Lives strategy will help us realise our purpose and our vision of doing everything we can to improve people's lives.